The One Where Ross Got Mistaken for a Banker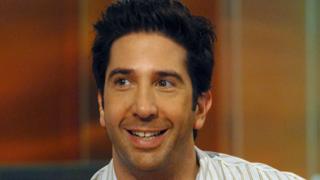 When the London Stock Exchange announced their next chief executive, many people on Twitter had to do a double take and asked if it was really him.
David Schwimmer will take up his new role on 1 August. People on Twitter had just one question – is it the David Schwimmer of Friends fame who has had a sudden career change and found himself a lucrative job in the City?
Well, it is a case of namesake confusion. It is the experienced banker, not the guy who played Ross Geller in the US sitcom Friends, who got the job.
You may also like:
The other David Schwimmer spent 20 years at investment bank Goldman Sachs. He will replace Xavier Rolet, who quit last November following a boardroom row.
Twitter didn't waste any time to reacting the stock exchange announcement and was immediately flooded with Friends in-jokes and gifs. Even from business journalists.
One mistaken person claimed he almost had a heart attack after seeing Schwimmer trending on Twitter. To his relief, it turned out the news was "just about a London stockbroker."
Toni H asked the pertinent question.
Skip Twitter post by @Hippychick3000
I'm sure David schwimmer of London stock exchange has heard all the jokes about being from friends before but has David schwimmer from friends heard jokes about being from the London stock exchange ?

— Toni H (@Hippychick3000) April 13, 2018
End of Twitter post by @Hippychick3000
As Michael Finnie put it: "Imagine being in charge of the London Stock Exchange and still not being *The* David Schwimmer."
Meanwhile, historian and television presenter Guy Walters went searching for Friends co-stars' namesakes on social media sites including LinkedIn.
And Bloomberg journalist Lionel Laurent perhaps feels it is not his day (his month, or even his year).
Skip Twitter post by @LionelRALaurent
There are already 15 Friends related gifs memes and jokes in my timeline after David Schwimmer is named head of LSE. It's going to be a long day.

— Lionel Laurent (@LionelRALaurent) April 13, 2018
End of Twitter post by @LionelRALaurent
Similarly, other Twitter accounts who happen to share a name with well-known or notorious figures have had their share of attention, positive and negative.
While John Lewis, not the department store chain, ended up with a series of personalised gifts after dealing with customers' complaints, Joe Hart the comedian took a lot of criticism aimed at the England goalkeeper.
And Steve Bannon and George Papadopoulous have each spent a lot of time on Twitter saying they did not work for Donald Trump after people who shared thier names made headlines over their roles with the US president's team.