The OAS urges to "urgently call elections" to overcome the crisis in Bolivia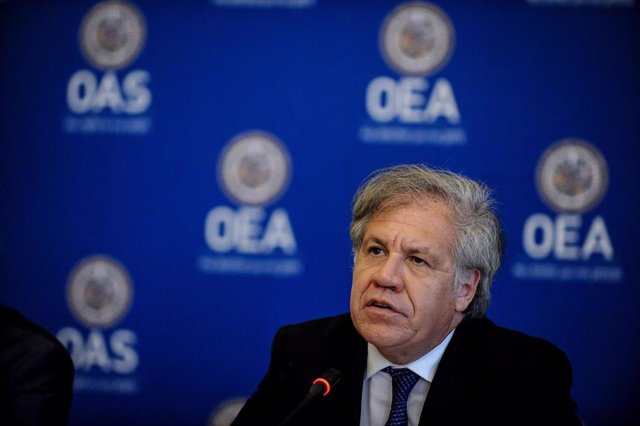 The OAS Secretary General, Luis Almagro – REUTERS / MARY CALVERT – Archive
WASHINGTON, Nov. 20 (EUROPE PRESS) –
The Permanent Council of the Organization of American States (OAS) has urged on Wednesday "the Bolivian authorities" to "urgently call elections" to resolve the political crisis that broke out after the presidential elections of October 20 due to allegations of fraud .
The OAS executive body has passed a resolution by a large majority of 26 votes in favor, including Bolivia, three against – Nicaragua, Mexico and Saint Vincent and the Grenadines – and four abstentions – Uruguay, Barbados, Suriname and Trinidad and Tobago.
In it he asks "the Bolivian authorities to urgently call elections, in accordance with the constitutional and legal mandate of Bolivia, quickly adopting an electoral calendar that provides certainty to the Bolivian people about an electoral process with all democratic guarantees."
In this regard, he stressed that "it must be guaranteed that the electoral process be developed with justice, freedom, transparency and respect for the sovereign will of the Bolivian people."
He has also urged "all political and civil actors in Bolivia, including all authorities, civil society, the Armed Forces (…), the immediate cessation of violence, preserve peace and seek dialogue. Frank to promote national democratic reconciliation. "
He has also called on "all Bolivian authorities to fully and unrestrictedly guarantee the respect and protection of Human Rights and ensure responsibility for any violation thereof, in accordance with International Law."
In this regard, he stressed "the urgent need for all political, social and institutional actors to act within the framework of respect for the rule of law and as stipulated in the Constitution and Bolivian laws."
In addition, they have decided "to support the initiative of the Secretary General (Luis Almagro) to deploy, at the invitation of Bolivia, a delegation to hold high-level preliminary meetings in search of guaranteeing, in a short time, the holding of free, fair and fair elections. transparent with effective guarantees ".
The crisis broke out after the presidential elections of October 20, in which Evo Morales proclaimed his victory but the opposition denounced a "gigantic fraud." The Organization of American States (OAS) audited the electoral process in which it found "irregularities."
Morales resigned on November 10 and fled to Mexico. Jeanine Áñez, second vice president of the Senate, proclaimed herself interim president to fill the power vacuum left by the former president and the resignation of other senior officials.
Neither Morales nor his followers recognize Áñez because they believe that his stay at the Burned Palace is the result of a "coup d'etat". She, for her part, has asserted that she will only be in office for the time necessary to call new elections.