The OAS condemns the use of force to prevent the access of deputies to the AN and applauds the re-election of Guaidó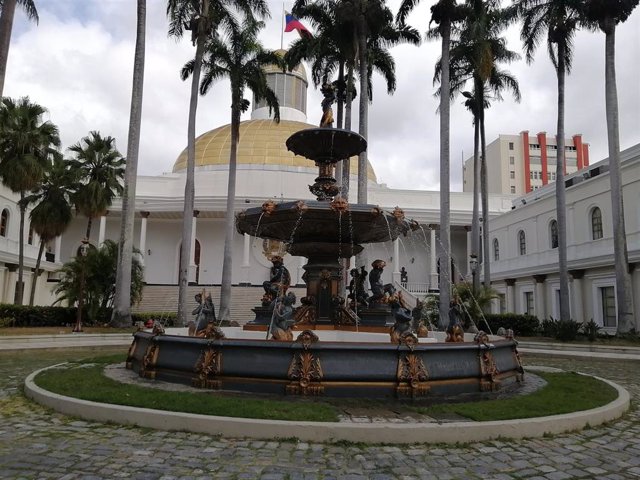 Federal Legislative Palace of Venezuela. – VENEZUELA NATIONAL ASSEMBLY
Guaidó thanks the OAS
MADRID, 10 Jan. –
The Organization of American States (OAS) has condemned this Friday the use of "force and intimidation tactics" by the Government of Nicolás Maduro to "obstruct the free access of deputies to the Venezuelan National Assembly (AN)" and has applauded the re-election of opposition leader Juan Guaidó in front of the chamber.
In a resolution on the latest events in Venezuela, the OAS referred to the events recorded on January 5 at the Legislative Palace during the session to elect the new Board of Directors of the AN.
Thus, he has called for the "soon return of democracy in Venezuela" and reaffirmed "the need to hold inclusive, free, fair and transparent presidential elections, with a renewed National Electoral Council and Supreme Court of Justice, which enjoy autonomy".
In this regard, he has requested that "there be the presence of independent international observers to carry out an investigation."
The organization has once again condemned "serious and systematic violations of Human Rights in Venezuela", as well as the "use of torture, illegal and arbitrary detentions, extrajudicial executions, enforced disappearances and the denial of basic rights and needs, especially those related to health, food and education. "
The National Assembly had to choose on January 5 a new dome in a vote in which Guaidó hoped to be ratified as head of Parliament, a position that allows him to remain as "president in charge."
However, the security forces prevented Guaidó and the majority opposition from accessing the legislative headquarters, so the vote was held in the drafting of the Venezuelan newspaper 'El Nacional' with 100 votes, 16 more than necessary.
At the same time, 'Chavismo' and the minority opposition appointed Luis Parra as president of the National Assembly in a vote that took place in the Legislative Palace.
The bicefalia in the Parliament is part of the pulse that Guaidó and Maduro have maintained for a year to be recognized by the international community as legitimate leaders of Venezuela.
"INCREASE PRESSURE"
For its part, the self-proclaimed "president in charge" of Venezuela, Juan Guaidó, thanked the OAS through its Twitter account for having ratified its "support for the cause of Venezuela" and for condemning the "attempted dictatorship to take Parliament for violence. "
He has also argued that the world "sympathized" with Venezuela, Parliament and the "worthy and brave" deputies of his party. "We have to increase the pressure to achieve the outcome to the crisis in our country," he added.
The special envoy of the United States for Venezuela, Elliot Abrams, has assured that the military intervention in the country does not depend on Guaidó, but is the decision of the American president, Donald Trump. "All options are on the table," he said. "When a president of the United States wants to use force for our national interests, he will use it," Abrams said in statements collected by TV Venezuela Noticias.