The NHRI denounces the "most serious" human rights violations in Chile since the return to democracy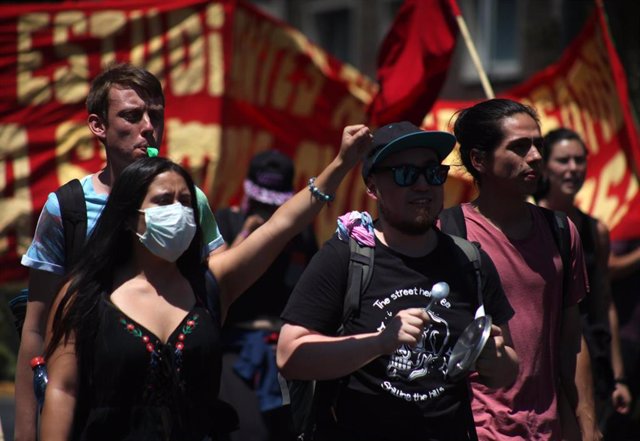 Archive image of a protest in Chile. – Ailen Diaz / Agency One / dpa
Aim for repression of protests against the Government
SANTIAGO, Dec. 23 (Agency One / EP) –
The National Institute of Human Rights (NHRI) of Chile has considered that there were "serious violations" of Human Rights between October 17 and November 30, according to the last annual report of the organization, presented on Monday.
In total, they have found that 3,442 people were injured in the protests, mainly by police officers, against whom 588 complaints were filed, 476 of them for torture or cruel treatment.
In addition, 12 actions were recorded for attempted homicide with 20 victims, as well as accusations of 135 people for torture and sexual condemnation.
The director of the NHRI, Sergio Micco, has affirmed that the main thread of all these facts is "the serious violations of Human Rights".
Also, he has argued that it will be the task of the courts to determine "the judicial truth", but the responsibility of the NHRI is "to denounce every time there is a violation or a violation of Human Rights."
In this regard, he stressed that after the social outbreak "there have been multiple and the most serious violations of Human Rights since the return to democracy in Chile."
Micco has stressed that a large number of people have suffered eye damage from the use of police riot guns, in addition to stressing complaints of sexual violence.
He has also stated that there have been multiple attacks on public and private property and has argued that the State has failed to protect public order and public safety.
In this context, the NHRI has made 15 recommendations to the powers of the State to end the serious violations of Human Rights, among them, that the Ministry of Interior instructs the Carabineros de Chile so that its action conforms to international standards .
Along the same lines, he has assured that it is necessary that the Executive and Legislative powers advance in the modernization of the security forces. Also, it has recommended to the Judicial Power that it guarantees a fast access to determine the criminal responsibilities.
From the Institute they have opted to adopt concrete measures to repair the people whose rights have been violated and to have a priority and specialized access.
In addition, he has urged the Ministries of Finance, Economy and Social Development to formulate public policies to support merchants, small and medium-sized entrepreneurs and workers, who have been affected by violence.
The NHRI has stressed that it has already recommended institutional powers to promote and protect Human Rights, especially for women, elderly people, people with disabilities and indigenous peoples.
Finally, it has asked the State to ensure "the full exercise of economic, social, cultural and environmental rights in the country, in order to reduce the great inequality derived from those that have not been adequately guaranteed."