The new round of constitutional talks on Syria stalled on the first day of the second round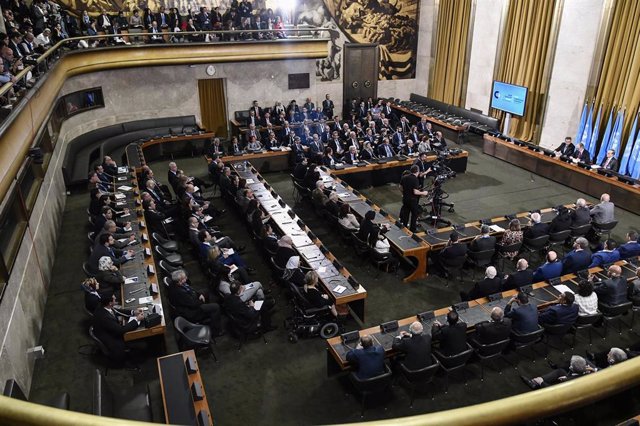 First meeting of the constitutional committee for Syria in Geneva – Wassim / SANA / dpa
MADRID, Nov. 25 (EUROPE PRESS) –
The members of the government delegation to the committee responsible for preparing the new Constitution have withdrawn this Monday from the United Nations headquarters in Geneva after receiving no response to their proposed agenda for the new round of talks, which has caused a stalemate. on the first day of the second round of the talks.
Sources close to the work of the committee cited by the Syrian state news agency, SANA, have indicated that the proposed agenda was entitled "national bases of interest to the Syrian people."
Thus, they have added that, after discussing the issue with the UN special envoy for Syria, Geir Pedersen, and not receiving an answer, they have left the building, so there will be no committee sessions this Monday. However, they could resume tomorrow.
"Today's constitutional committee has not been held and the reason is that there is no agreement on the program or agenda that will be discussed at the meeting," said Yahya al Aridi, an opposition spokesman, according to Reuters news agency. .
Basma Kodmani, an opposition delegate, stressed that his delegation proposed an agenda last week, without receiving an answer. "Now government delegates come with an agenda and say they want to discuss 'basic patriotic principles' as a set of preconditions for constitutional discussion," he criticized.
Thus, he stressed that the opposition is willing to address these principles as part of constitutional work, but not outside it. "His position (of the Government) suggests that it is designed to save time," he has settled.
"The situation is clearly blocked," Western diplomatic sources said in statements to Reuters.
The drafting committee of the Magna Carta is made up of 45 members – 15 from the Syrian Government, 15 more from the opposition and 15 from civil society – and integrated into the constitutional commission, consisting of 150 members – 50 of each of the parts–.
Pedersen said after the first round of talks, open at the end of October and that lasted ten days, that the contacts were "better than most would have expected."