The new head of the Hong Kong Police urges students to leave the Polytechnic University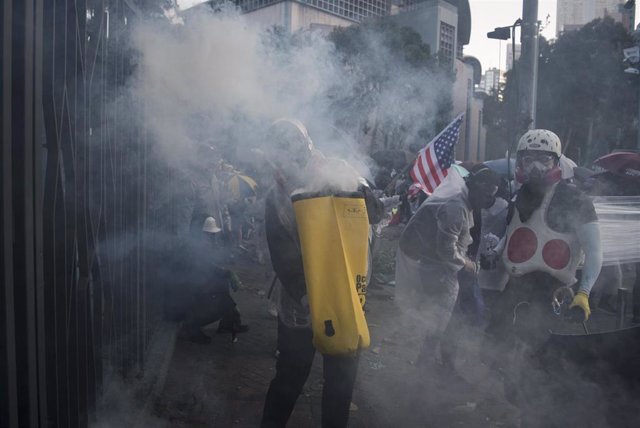 Students face security forces outside the Polytechnic University in Hong Kong – Oliver Haynes
MADRID, Nov. 22 (EUROPE PRESS) –
The new chief of the Hong Kong Police, Tang Ping Keung, has urged students who are inside the Polytechnic University to leave "so that the crisis can be resolved peacefully."
Tang has indicated that the authorities do not have a deadline to reach an agreement with the protesters who have locked themselves in the campus, as indicated by the local newspaper 'South China Morning Post'.
Earlier, a first aid group had entered the University to tell students that they could take them out without facing an "immediate arrest," according to the media.
At least eight protesters who had been waiting hidden in the trash bins of the Polytechnic University surrendered to the Police in the early hours of Friday, while others have desperately sought ways to escape, to the extent that riot officers have surrounded The Campus.
In his first public statements on the matter, he has warned that the campus is becoming an increasingly dangerous place. In addition, he has also promised not to arrest minors or those who need medical help. "Those over 18 will be arrested immediately," he added.
The Chinese State Council on Tuesday named Tang the new head of the Hong Kong Police in the face of the resurgence of protests that hit the Chinese special administrative region for five months.
Protests in Hong Kong broke out last June against a controversial bill of extradition to mainland China. Lam finally withdrew the bill but the demonstrations have continued with greater demands, including universal suffrage.
Violence in Hong Kong has thus become the biggest challenge for Chinese President Xi Jinping, who came to power in 2012 and insists that the local government can resolve the crisis.
The protesters, angry at what they consider an interference of the Chinese government in the former British colony, have argued that they are responding to the excessive use of force by the security forces.
Beijing, meanwhile, has rejected any kind of intervention in Hong Kong affairs and blamed the situation on the influence of third countries.