The new face of London's poetry scene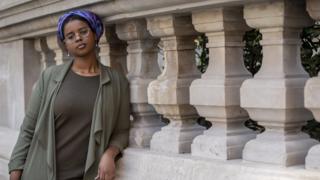 Momtaza Mehri, who is Somali-British, was recently named the Young People's Laureate for London. She sees poetry as a powerful tool.
Mehri was first exposed to spoken forms of poetry by family when growing up in north-west London.
"I was introduced to poetry by my parents initially, and their tastes in literature," she says. "I also heard general Somali spoken-word poetry on cassette tapes."
She says poetry can be a powerful tool for those who feel alienated by the content on the traditional school curriculum.
It can also be helpful in exploring bigger, more abstract concerns around belonging.
As she says in one of her poems: "You have nowhere to call home, no knowledge of permanence. You are a guest everywhere, even in his arms."
Nuanced identities
Young people can be directly impacted by knife crime and lack of housing – but the conversation around these key issues can often take place without them.
Like many of her peers, Mehri believes that the solution starts with involving those who face the problems.
"Young people are usually talked down to. They are patronised around their experiences," she says.
"So there's sometimes not a way for them to talk about – for example – that feeling of being in a really, really big urban city and feeling quite lonely.
"We've had an upsurge in knife crime recently – so how young people engage with realities that everyone else seems to be divorced from, is important."
The nuanced identities of young adults that are often overlooked can be explored in poetry, she says.
Her award-winning poetry explores the themes of movement of people, disruption and displacement. She's also been nominated for this year's Brunel African Poetry prize.
While Mehri had always expressed interest in creative writing, she only started writing poetry four years ago.
What started as a hobby turned into something bigger, as she found a voice of her own through the art-form.
"I realised poetry is something that I enjoy, so I thought I'd give it a go and try it. It allowed me to be more comfortable and freer in my own voice," she says.
'Gold in underskirts'
Her background as a Londoner and Somali woman informs both her written work and her ambitions as laureate.
"The communities I am surrounded by ground me in their ability to make themselves whole again, regardless of how forced movement has disrupted their lives," she says.
In a few lines in one of her poems, she sums up the scale of disruption during the Somali civil war of the late 80s and early 90s.
"just as in 91′ / the mothers who hid gold in underskirts / crossed rivers / saved everyone before themselves / two million dis-placed by the next spring /"
She hopes to continue to engage youngsters in and around London – particularly young Somalis – a demographic with a notable number of people who migrated to the UK via another country.
These young people have "a whole other world" that is not often tapped in to. One that gives them a multi-layered identity that does not fit into any one box.
"They have a whole transnational vibe going on where they speak other languages," she says.
"I don't think it's popular to talk about young people in that way because it doesn't provide easy sound bites, and it just complicates the narrative."
She praises fellow Somali poet Warsan Shire for her ability to vocalise these complex narratives.
Shire – Young Poet Laureate for London in 2013 – was catapulted to international fame after singer Beyoncé featured her work prominently on her 2016 feature-length film Lemonade.
"There are a lot of Somalis – young Somali girls and women – who have been really invigorated by her," says Mehri.
Others who inspire her include Caribbean-American poet June Jordan, who also writes on the themes of immigration and representation, and Peruvian writer and journalist César Vallejo.
As the new laureate, Mehri will work with schools and young people aged 13 to 25 across London and the UK.
"I want to help them understand and see poetry in their own daily lives, to have their individual sense of the poetry they like, and to feel like they can go out there and not only write but engage with the poetry scene," she says.
She believes a good way to get young people to engage with poetry is by diversifying the ways they consume it.
"You can introduce them to a poet or a spoken word artist – or even to see poetry in the way that they didn't really think of – like a film that features poetry. Or hip hop."
Mehri speaks enthusiastically of her work with the writer-development agency Spread the Word.
"We've done some workshops with young people. Some have set up poetry clubs in their schools or go to open-mic nights, They really do see poetry as a pathway," she says.
"They actually want to write poetry and become poets – even though there's no career advice they're given in school on how it is to be a poet.
"There are those who need it as a tool to draw upon in their daily and emotional lives – to help them make sense of what's going on in the world, what is going on with them – because young adulthood, in general, is quite a tumultuous time."