The new commander of the Quds Force in Iran promises to avenge Soleimani and says that the US "will be expelled from the region"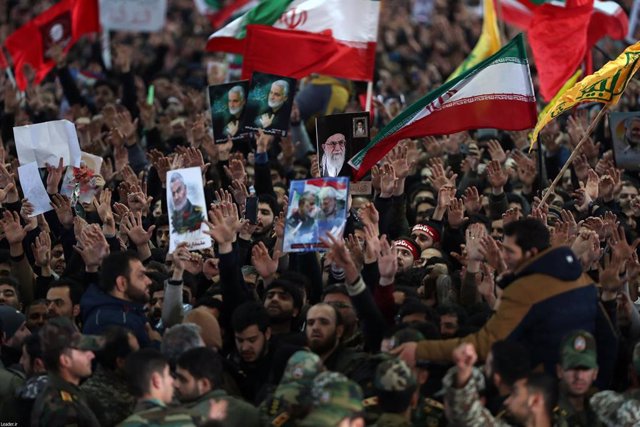 Participants in the funeral in Tehran of General Qasem Soleimani, head of the Quds Force of the Revolutionary Guards of Iran – – / Office of the Iranian Supreme / DPA
MADRID, Jan. 6 (EUROPE PRESS) –
The new commander of the Quds Force of the Revolutionary Guard of Iran, Esmail Qaani, has promised on Monday a response to the death of General Qasem Soleimani and stressed that the United States "will be expelled from the region."
"We promise to continue the path of the martyr Soleimani with the same force and his martyrdom will be answered with several steps and the expulsion of the United States from the region," he said, as reported by the Iranian news agency IRNA.
"Revenge for the martyrdom of Soleimani is a promise made by God, and God is the main avenger," he said, while stressing that "the continuation of this movement seeks to achieve the global governance of imam Mahdi."
During the day on Monday, hundreds of thousands of Iranians have participated this Monday in the events in Tehran for the funeral of Soleimani, ceremonies that have been led by the Iranian supreme leader, Ayatollah Ali Jamanei.
Soleimani died along with 'number two' of the Popular Mobilization Forces (FMP), Abu Mahdi al Muhandis, and several Iraqi militiamen and Iranian military in a US-executed bombing at the airport in the capital of Iraq, Baghdad.
Washington argued that it carried out the attack "to protect US personnel abroad", following protests against its embassy in Baghdad in protest against another bombing in which 25 members of the FMP died.
Bombings against the FMP were executed in response to the death of an American contractor in a projectile attack against a military base located near Kirkuk.
The Iraqi Government has condemned these attacks by the United States and recalled that the FMP is a fundamental element in the fight against the jihadist group Islamic State.
In this regard, he has denounced that the bombings were carried out unilaterally and in violation of the agreements reached with the international coalition that Washington is leading in the fight against jihadists.
Therefore, the Iraqi Parliament approved on Sunday a motion that requires the expulsion of US troops from the country and obliges the Government to commit to making public any agreement reached in the future for the presence of foreign military advisers and trainers.