The National Assembly of Venezuela ratifies Guaidó as president in an alternative session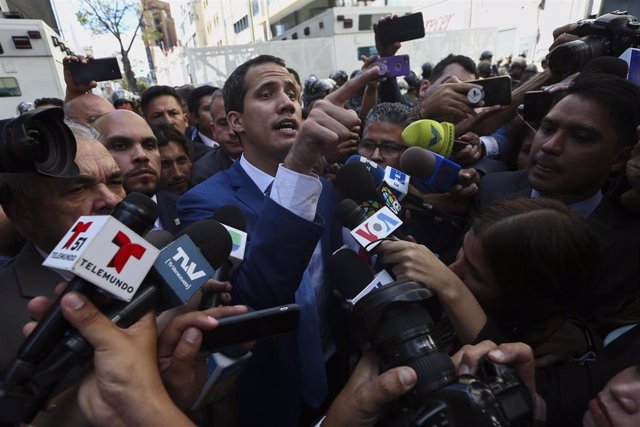 The self-proclaimed president in charge of Venezuela, Juan Guaidó. – Pedro Ramses Mattey / dpa
Guaidó says Venezuela is "well represented" and calls for "unification"
The National Assembly of Venezuela has ratified this Sunday the self-proclaimed president in charge of Venezuela, Juan Guaidó, as president in an alternative session held before the impossibility of accessing the vote held at the parliamentary headquarters and that has resulted in the election of the opposition dissident Luis Parra.
The second session, carried out in the writing of the newspaper 'El Nacional', has agreed to the re-election of Guaidó with a total of 100 votes against the 81 achieved by Parra. For the re-election a quorum of 84 deputies is necessary.
In addition, the deputies Juan Pablo Guanipa, of the Primera Justicia party, and Carlos Eduardo Berrizbeitia, of Proyecto Venezuela (PRVZL), have been elected first and second vice-president, respectively.
On the other hand, for the positions of secretary and undersecretary of the National Assembly, Angelo Palmieri, from Un Nuevo Tiempo (UNT), and José Luis Cartaya, from the Bureau of the Democratic Unit (MUD) have been selected, as reported by the newspaper Venezuelan.
After the vote, Guaidó has assured that he has won the presidency of the National Assembly "despite the violent takeover and the coup d'etat" in the Federal Legislative Palace.
"This road has not worked or will work for them. Venezuela is firm and well represented," he said through his Twitter account, where he has also lamented the "embarrassing show of the dictatorship" and said that "despite persecuting and imprisoning , they have not broken the fighting spirit of the deputies and that of all Venezuela ".
In this context, he announced that on Tuesday he will take possession in the Federal Legislative Palace and has transferred that he assumes "the responsibility" he has, "recognizing the mistakes made to rectify and move forward."
"We call on all Venezuela to unify. All Venezuelans must exert pressure to have an outcome and a 2020 of achievements as a country," he concluded.
Parra has been elected without Guaidó being present in a session held despite the fact that several deputies have not been able to access the parliamentary headquarters due to police controls. Franklin Duarte (Copei) as first vice president and José Gregorio Noriega have been elected alongside him. Negal Morales (Democratic Action as secretary) and Alexis Vivenes (Popular Will) would also be in the direction.
For their part, from the self-proclaimed Government of Venezuela headed by Guaidó, they have denounced a "coup d'etat" and videos of a line of police training have been disseminated, preventing the passage of Guaidó and several of his followers with their shields.
"Without votes or regulatory quorum, deputies of the United Socialist Party of Venezuela (PSUV) and the corrupt Local Supply Committee and Production Section (CLAP) swear false directive," denounced the Presidency of the Assembly headed by Guaidó in a statement. The opposition ensures that Parra is linked to a corruption scheme related to the Local Supply and Production Committees (CLAP) established by the Maduro Government to distribute food.