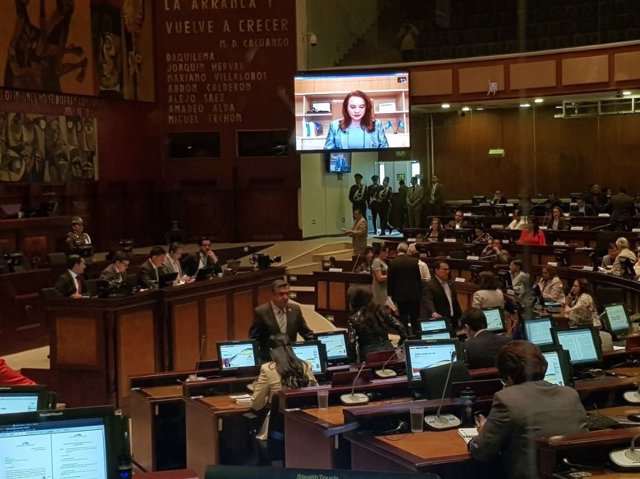 The National Assembly of Ecuador – TWITTER – Archive
QUITO, Nov. 18 (Reuters / EP) –
The National Assembly of Ecuador has rejected this Sunday the package of economic reforms presented by the Government of the president, Lenín Moreno, in a new blow to the attempts of the authorities to obtain resources and reduce the fiscal deficit after the protests registered in the country before at the beginning of October.
The National Assembly of Ecuador rejects the Government's economic reform project after the protests
"With 70 votes in favor, the National Assembly plenary decides to deny and file the economic growth bill," the Ecuadorian Assembly said in its Twitter account.
The government's bill sought to improve collection by raising some taxes and establishing a special contribution for companies with revenues of more than $ 1 million annually.
The new economic reform was presented urgently and the Legislative Administration Council (CAL), the governing body of the Congress, analyzed it before sending it to the plenary. The deputies had a period of 30 days to reject it, ratify it or make modifications.
Moreno aspires to replace with this bill the economic reform agreed with the International Monetary Fund (IMF) to receive an injection of 4.2 billion dollars.
Several of the proposals have been questioned by the indigenous movement and by social organizations, while others have the rejection of the business sector.
After repealing the decree that raised the price of extra gasoline and diesel, Moreno opened a dialogue table with the indigenous movement to look for mechanisms, but has not obtained results so far.
The rise in the price of diesel and gasoline caused a wave of protests in early October that in just ten days put the government in check, forcing Moreno to move his headquarters from Quito to Guayaquil. At least eight people died and more than a thousand were arrested.
Finally, the Government and protesters reached an agreement under the auspices of the UN and the Episcopal Conference to end the protests in exchange for agreeing a new decree on the price of fuel.
Moreno has directly blamed his predecessor and once ally, Rafael Correa, and his allies, including Venezuelan President Nicolás Maduro, for orchestrating a "coup d'etat." Both have denied any involvement in the political crisis in Ecuador.