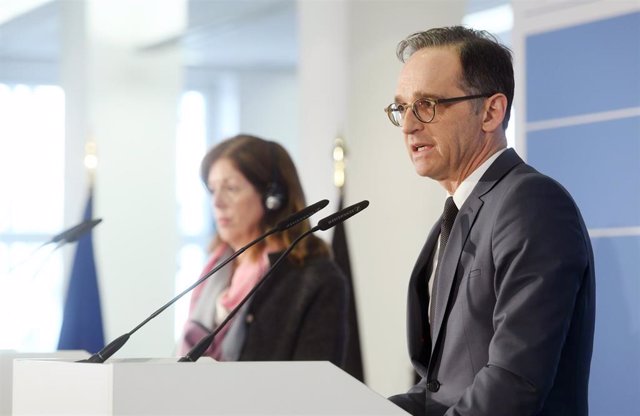 German Foreign Minister Heiko Maas and the UN Deputy Special Envoy to Libya Stephanie Williams – Tobias Hase / dpa
MUNICH / TRIPOLI, Feb. 16 (DPA / EP) –
Foreign ministers meeting this Sunday on the last day of the Munich Security Conference have agreed on the need to strengthen the arms embargo on Libya, described as "joke" by United Nations officials, to encourage parties facing Start a peace dialogue.
"We know it will not be an easy task," said German Foreign Minister Heiko Maas, who defended the latest resolutions in this regard at the United Nations Security Council. "What we achieved in New York was enormous progress," he said.
The twelve countries and three international organizations present underlined their goal of implementing the arms embargo provided by the United Nations since 2011.
The Secretary General of the United Nations, Antonio Guterres, recently accused the four foreign countries involved in the war in Libya, the United Arab Emirates, Egypt and Russia in favor of the military opposition Jalifa Haftar, and Turkey as an ally of the Government recognized by the international community in Tripoli, to hinder peace talks through the supply of weapons and combatants, in what he came to describe as a scandal.
This Sunday, and before the meeting, the United Nations special envoy to Libya, Stephanie Williams, has strongly criticized the ineffectiveness of the proposed measures in Berlin, starting with the arms embargo on the North African country.
"It has become a joke," Williams lamented about the null regulation of the entry of weapons into the country, according to the UN as "the largest uncontrolled arsenal in the world."
"The situation on the ground is especially worrying, and this kind of truce is constantly hanging by a thread. Hundreds of ceasefire violations have been recorded," he lamented in statements collected by Bloomberg.