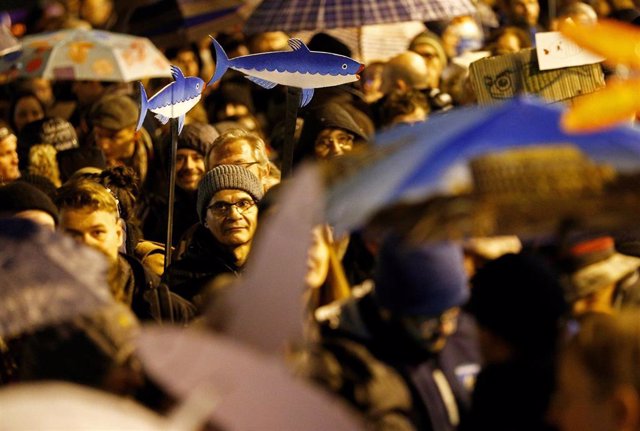 Las Sardinas Movement against Matteo Salvini – REUTERS / GUGLIELMO MANGIAPANE
ROME, Dec. 14 (EUROPE PRESS) –
The movement of 'Las sardinas' hopes to attract 100,000 people this Saturday in a demonstration designed to present itself in society as a civic group against the former Italian Interior Minister, the ultra-right leader Matteo Salvini.
The organizers hope to attract at least 100,000 people in the Piazza San Giovanni in Rome, a large square traditionally used for political demonstrations.
"The time has come when people can no longer remain passively at home, it is time to take a position," one of the founders of the movement, Mattia Santori, told Italian public television RAI.
The movement began on November 14 in Bologna, when thousands of people crammed "like canned sardines" a city square to denounce Salvini's party, La Liga, an anti-immigration rhetoric that they understand as degrading.
Since then there have been dozens of protests in other Italian cities, which has taken "Las sardinas" to the center of the national political debate.
Santori, who launched the group with three other friends, spoke of a "division" between "those who use the language of the division and others who want to wipe away the tears of our social fabric."
The movement has no formal links with political parties and organizers say they don't want to make it one. In the demonstrations, people often sing 'Bella Ciao', a famous antifascist song by Italian partisans.
Despite the growing popularity of the group, the League leads national opinion polls and could win a historic victory in the regional elections next month in Emilia-Romagna, a traditional bastion on the left.