The mortal remains of Iranian General Soleimani arrive in the Iranian city of Kerman to be buried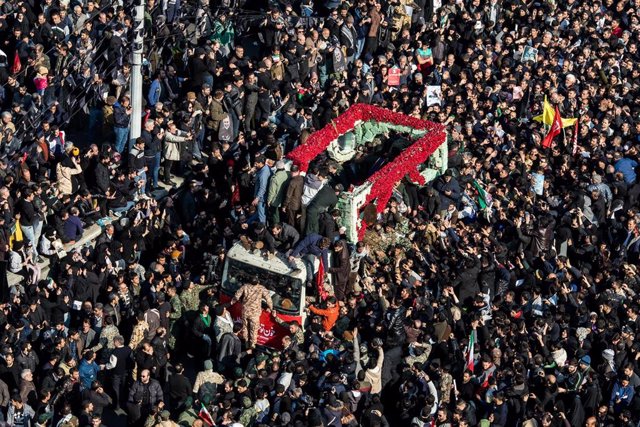 Acts for the funeral of Iranian Genreal Qasem Soleimani in Tehran. – Arash Khamooshi
MADRID, Jan. 7 (EUROPE PRESS) –
The mortal remains of Iranian General Qasem Soleimani, who died during an attack by the United States at Baghdad airport, arrived on Tuesday in the Iranian city of Kerman, his hometown, to be buried.
Thousands of people attend the funeral procession of the general, who will be buried in the cemetery that he specified in his will and that houses other "martyrs", as reported by the Iranian news agency IRNA.
The assistants to the procession sing slogans that refer to the anger they feel towards the United States and promise revenge to those who "planned and carried out the murder," according to the same agency.
Hundreds of thousands of Iranians have participated in the events in Tehran for the funeral of General Soleimani, ceremonies that have been led by the Iranian supreme leader, Ayatollah Ali Khamenei.
In this context, Khamenei again warned that there will be a "hard revenge" against those responsible for the death of Soleimani and added that "the path of resistance will remain vigorous."
Soleimani died along with 'number two' of the Popular Mobilization Forces (FMP), Abu Mahdi al Muhandis, and several Iraqi militiamen and Iranian military in a US-executed bombing at the airport in the capital of Iraq, Baghdad.
Washington argued that it carried out the attack "to protect US personnel abroad", following protests against its embassy in Baghdad in protest against another bombing in which 25 members of the FMP died.
Bombings against the FMP were executed in response to the death of an American contractor in a projectile attack against a military base located near Kirkuk.
The Iraqi Government has condemned these attacks by the United States and recalled that the FMP is a fundamental element in the fight against the jihadist group Islamic State.
In this regard, he has denounced that the bombings were carried out unilaterally and in violation of the agreements reached with the international coalition that Washington is leading in the fight against jihadists.
Therefore, the Iraqi Parliament approved on Sunday a motion that requires the expulsion of US troops from the country and obliges the Government to commit to making public any agreement reached in the future for the presence of foreign military advisers and trainers.