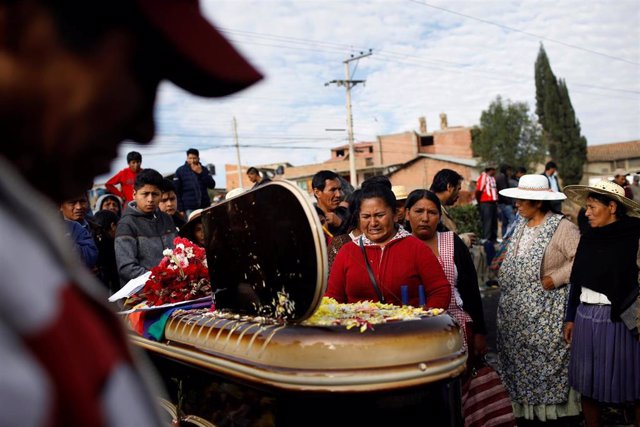 One of those killed by shots by security forces against supporters of Evo Morales in Sacaba, Cochabamba – REUTERS / MARCO BELLO
Among the facts identified are the deaths in Senkata and Sacaba during the protests
MADRID, Dec. 6 (EUROPE PRESS) –
The mission sent by the UN High Commissioner for Human Rights directed by Michelle Bachelet to Bolivia has so far documented some acts of violence that could constitute "serious violations of Human Rights" during the events recorded in the country following the elections of October 20.
In the three weeks that the mission has been in Bolivia, where it arrived on November 11, it has collected first-hand information on the situation of Human Rights in the country and "has documented acts of violence that occurred since October 21, some of which could constitute serious human rights violations, "the UN said in a statement.
Among them, he said, are "the tragic events that occurred in Sacaba (Cochabamba) on November 15 – where at least 9 people died – and in Senkata (El Alto) on November 19, where at least 10 people died during an intervention of the Army and the Police in the context of demonstrations. "
During its stay, the mission has held multiple meetings with State institutions, civil society, social, trade and indigenous organizations, international entities, victims, family members and witnesses among other actors, in addition to maintaining a close dialogue with the Inter-American Commission on Human Rights . In addition, he has visited hospitals, detention centers and other relevant places, such as the Senkata gas plant.
The UN High Commissioner thanked "the willingness of the authorities to facilitate the work of the mission and access to information, as well as the creation of spaces to maintain exchanges, dialogue and recommendations on human rights issues."
In the coming weeks, the mission will continue with its activities, in order to contribute to the strengthening of Human Rights guarantees in Bolivia, with special emphasis on prevention, the note said.
Likewise, "it will continue to advocate that all acts of violence, regardless of its authorship, be investigated promptly, transparently and impartially by the competent state entities."
The political crisis in Bolivia broke out after the presidential elections of October 20, in which the now former president Evo Morales proclaimed his victory but the opposition denounced a "gigantic fraud."
The Organization of American States (OAS) has concluded in its final report that in the elections there was "malicious manipulation" and "partiality", as well as "serious irregularities", such as "lack of protection of the minutes" and the loss of "sensitive material".
Morales resigned on November 10 and fled to Mexico. Jeanine Áñez, second vice president of the Senate, proclaimed herself interim president to fill the power vacuum left by the former president and the resignation of other senior officials.
Bolivia is now preparing to hold new elections in which neither Morales nor his vice president, Álvaro García Linera, will be able to participate, according to the agreement to which his party, the Movement To Socialism (MAS), and the Government of Áñez have arrived in the Congress.