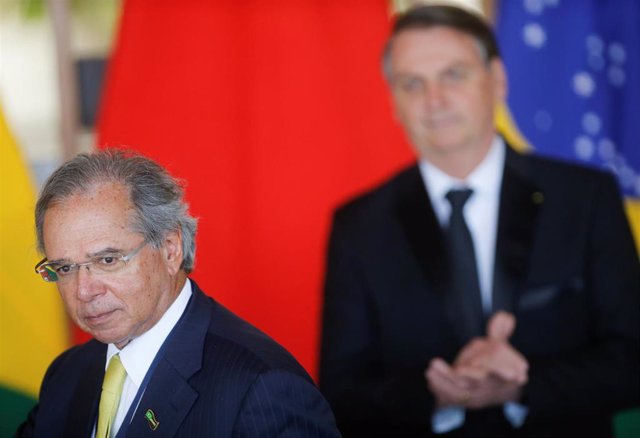 The Minister of Economy of Brazil, Paulo Guedes. In the background, President Jair Bolsonaro. – REUTERS / ADRIANO MACHADO
MADRID, Nov. 26 (EUROPE PRESS) –
The Minister of Economy of Brazil, Paulo Guedes, has been reprimanded Tuesday by the president of the Federal Supreme Court (STF), José Antonio Dias Toffoli, after suggesting that, given a massive mobilization of the left, a series of measures contained in a law dating from the military dictatorship (1964-1985) to suppress dissent.
"It is incompatible with democracy. The future is not built with failed experiences of the past," said Dias Tofolli, mentioning Institutional Act 5 (AI-5), which Guedes referred to when asked on Monday during his visit to Washington about the strong polarization that lives, not only Brazil, but many other countries of the continent.
For the Minister of Economy, the call that the Brazilian left made to take to the streets to protest, coinciding with the recent release of former President Luiz Inacio Lula da Silva, was not democratic, but "irresponsible", so no one should "be scared if an AI-5 is requested ", the fifth amendment following the coup d'etat of 1964 which abolished fundamental rights.
After the strong criticism received by his statements, Guedes has tried to clarify them and assured that they were taken out of context. "It is inconceivable, Brazilian democracy would never allow it, even if the left assaults Planalto Palace by force," he explained, as the Brazilian newspaper 'Folha de Sao Paulo' has collected.
The government of the extreme rightist Jair Bolsonaro, who has confessed to being a nostalgic of the military regime, has been criticized for his views on that period of Brazilian history.
Bolsonaro himself said in an interview he granted in March that there was no dictatorship in Brazil, but a regime "with some problems", comparing this time to a "marriage."
"We have to know the truth. I don't want to say it was wonderful. Any marriage has problems, it's rare that there aren't any," he said when he had been in office for only two months.
For his part, in October, the deputy of the Social Liberal Party (PSL) and son of Jair Bolsonaro, Eduardo Bolsonaro, suggested in an interview that his father's government could consider the possibility of launching the AI-5 in case of that the left decided to radicalize. After being admonished by public opinion, he apologized, but that has not been an obstacle for him to continue exalting the military stage during the dictatorship in his social networks.