The Mexican Congress approves reforming the Criminal Code to tighten penalties for gender violence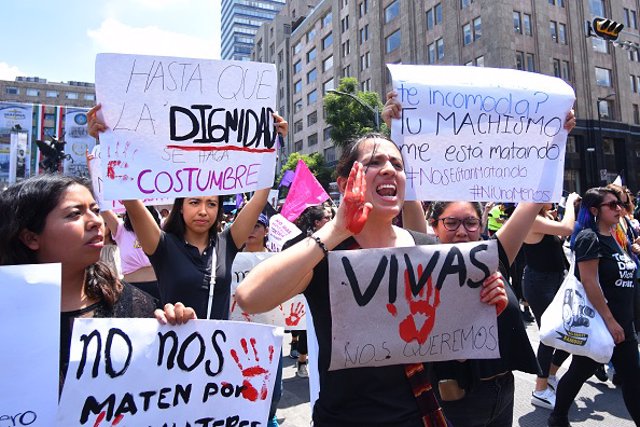 A report by the National Citizen Observatory of Feminicide (OCNF) in Mexico shows that in Mexico City 101 women have been killed while 800 have disappeared in the last five months. – GETTY – Archive
MEXICO CITY, Feb. 19 (EUROPE PRESS) –
The plenary session of the Congress of Deputies of Mexico has approved on Tuesday a reform of the Criminal Code to tighten penalties for gender-based violence, whereby femicides can carry up to 65 years in prison, five more than in the previous legislation, in between of a general outrage across the country due to the rebound in violence against women in recent years.
The reform has been approved by 415 votes in favor, after several months waiting for it to be presented to the Chamber, coinciding with the murder of a seven-year-old girl in a small town in Mexico City that has shocked Mexican society .
The Justice Commission has detailed that between 2015 and September 2019, 3,488 femicides have been committed, an increase of 175.6 percent, which represents an "alarming" trend of violence against women, according to the National Public Security System .
According to this institution, in case these figures are maintained, "by the end of 2019 there will be an average of 5.6 gender-based murders per 100,000 women."
The new reform of the Criminal Code has also included an increase in prison sentences, from 10 to 18 years in jail, against those who commit sexual abuse against children under 15 or against those who are not in full compliance with their physical faculties. and / or mental.
In that sense, economic fines have also been extended for this type of crime, as well as other types of penalties, including imprisonment, against those officials who, in carrying out their work, consciously delay or obstruct investigations and penalties. against those accused of gender violence.
During the vote, all the political parties present in the Congress have agreed to point out the great problem facing Mexican society, so they have considered it essential that all authorities agree to implement a more effective action plan with who can prevent and punish this type of violence against women and girls.
However, opposition parties have taken the opportunity to point out the president of Mexico, Andrés Manuel López Obrador, who has been accused of a lack of "empathy" and "sensitivity." Some deputies have criticized the Government for their "hollow words" and for lacking a concrete plan that will effectively combat femicides.
The organization Stop the Kidnapping has published on Tuesday a report in which 1,887 kidnappings occurred last year, of which 410 were committed against women, representing an increase of 24 percent compared to 2018.
Stop the Kidnapping has explained that 90 percent of the women who have been kidnapped have suffered sexual violence during their deprivation of liberty, as echoed by the Mexican newspaper 'El Universal'.
The states of the country where this type of crime against women have been most recorded has been in Veracruz, with 147; State of Mexico, 103; and Mexico City, 76.