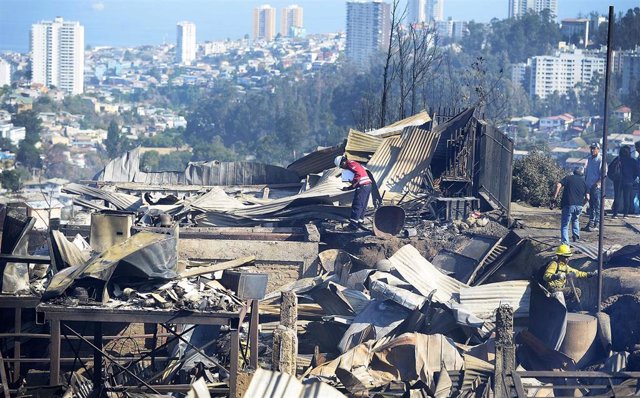 Damage caused by the fire in Valparaíso – PABLO OVALLE ISASMENDI / PABLO OVALLE ISASMENDI
SANTIAGO, Dec. 25 (Agency One / EP) –
The mayor of Valparaíso, Jorge Sharp, denounced on Wednesday that "someone wants to destroy" the Chilean city, after the last of a long list of fires that has affected about 150 houses.
"Someone, whether a person or groups of people, wants to see Valparaíso destroyed," Sharp said after participating in the emergency committee meeting with the regional mayor, Jorge Martínez, and several Chilean government ministers.
The local leader has demanded "to know who they are, what intentions lead them to act in this way and to pay with the maximum degree that the law (imposes) in this type of situation".
"I tell those people that we are going to catch them, we will get to the last consequences to clarify the facts, because here the lives of the residents of Valparaíso were at stake, houses were lost, memories were lost," he said .
The fire broke out on Tuesday in a forest area but quickly spread to populated sectors, forcing several houses to be vacated on Christmas Eve. "Valparaíso did not have a happy Christmas, yesterday or today," Sharp said.
Interior Minister Gonzalo Blumel has estimated 150 affected homes. The municipal authorities have created a center for collecting water, food and other basic supplies in a school in the center of Valparaíso for evacuees, who have been transferred to two shelters.
The prosecutor of the case, Osvaldo Ossandón, has confirmed that "there is a strong research hypothesis that deals with the intentionality" of the fire. "There is a history," he recalled.