The mayor of New York will ban plastic bottles and new fossil fuel projects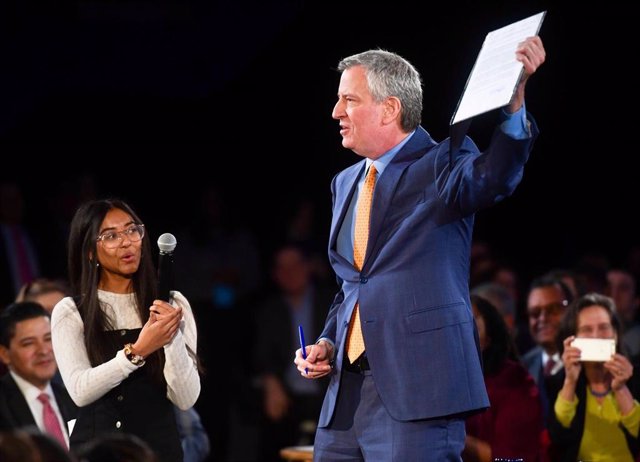 Bill de Blasio announces the ban on plastic bottles and the creation of infrastructures that expand the use of fossil fuels during his speech on the State of the City. – TWITTER NYC MAYOR'S OFFICE
MADRID, Feb. 7 (EUROPE PRESS) –
The mayor of New York, Bill de Blasio, announced this Thursday, during his speech on the State of the City, that it will prohibit single-use plastic bottles and the creation of new infrastructures that expand the use of fossil fuels in the city.
Specifically, De Blasio has signed an executive order to end the purchase of single-use plastic bottles, which he has described as "unnecessary", in addition to restricting its sale by 2021.
"Plastic bottles are made of fossil fuels, they are damaging the Earth, we don't need them, it's time to get rid of them … Today we signed an executive order to ban plastic bottles in the city," said the New York mayor during the speech, broadcast by his office.
As for the infrastructures that promote the use of fossil fuels, the objective is to stop the construction of any of them, such as power plants or pipelines. Thus, De Blasio has pledged to issue a new executive order to carry it out.
On the other hand, he has also assured that, by 2040, he wants New York to end the use of fossil fuels in general, including natural gas, "starting with government buildings," he said.
"We will work with legislators to ensure that the new permits for the construction of systems are aligned with our carbon neutrality objective by 2050," he said.
De Blasio has also referred to providing the "support they need" to survive small businesses, to take "significant" measures to improve affordability, to keep children "at the center" of their agenda and to continue reducing the crime in speech, the seventh that pronounces.
In this context, the international environmental organization 350.org has considered that the measure announced by De Blasio this Thursday in reference to fossil fuels is a "monumental step" to make New York "a model of real climate leadership."
"As we enter the climate decade, we need transformative climate action, and now the financial center of the world is moving to stop all new fossil fuel projects. This movement invigorates us to protect our communities from all projects of gas, oil and coal, "said the organization's regional organizer, Dominique Thomas, in a statement.