The MAS includes Morales in his list of candidates for the Senate by Cochabamba for the elections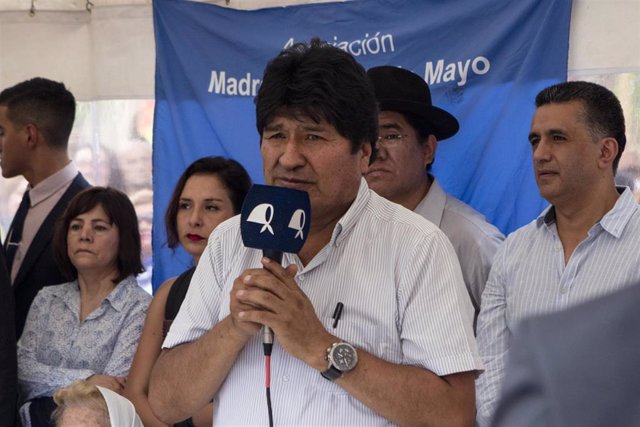 Evo Morales in an act of the Mothers of the Plaza de Mayo – GETTY IMAGES / RICARDO CEPPI – Archive
MADRID, Feb. 4 (EUROPE PRESS) –
The party of the former president of Bolivia Evo Morales, Movement to Socialism (MAS), has included the indigenous leader as a candidate for first senator for Cochabamba for the May 3 elections.
This has been confirmed by the cocalero leader Leonardo Loza, who has argued that Bolivian social organizations support the candidacy, as reported by the local newspaper 'El Debe'.
The parties and political alliances seeking to run for the May elections have registered their candidates this Monday before the Supreme Electoral Tribunal (TSE) of Bolivia. The MAS has registered Luis Arce and David Choquehuanca as candidates for president and vice president, respectively. There are a total of eight candidates for the presidency of Bolivia.
The TSE will then carry out a "verification" of the requirements of the candidates for the elections. It will be on February 21 when the electoral body publishes the list of qualified candidates.
According to the regulations of the TSE, candidates must be registered in the electoral roll, have no criminal charges or convictions in criminal matters.
In this context, Morales weighs an arrest warrant issued by the Bolivian Prosecutor for charges of sedition and terrorism, crimes that he is accused of having ordered to enclose important cities in the framework of the protests that took place after the elections of the October 20 in the country. However, there is no judgment on any of these crimes.
Morales resigned on November 10 after the Organization of American States (OAS) detected "irregularities" in the October 20 elections. He is currently in Argentina as a refugee.
The MAS and its opponents reached an agreement in Congress to hold other presidential elections, scheduled for the 3rd major, although they vetoed Morales and his former vice president, Álvaro García Linera, as candidates. Thus, the former president would limit himself to acting as election campaign manager.
With the presidential elections of May 3, Bolivia aspires to settle the political crisis in which it is immersed. More than 30 people died in clashes between supporters and detractors of Morales and with security forces.