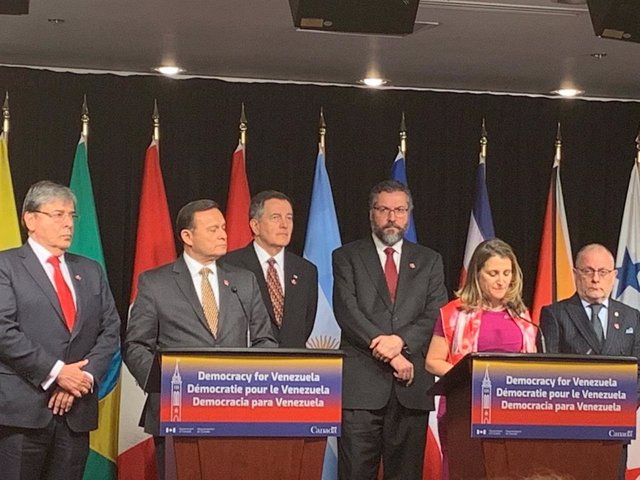 Lima Group meeting in Canada. – CANCILLERÍA COLOMBIA – Archive
MADRID, Jan. 6 (EUROPE PRESS) –
The Lima Group, made up of countries in the region to promote a political solution to the crisis in which Venezuela is plunged, has condemned this Saturday "the use of force" by the country's president, Nicolás Maduro, to "prevent" the vote of the new president of the National Assembly, which the First Justice deputy Luis Parra has achieved.
The Lima Group condemns Maduro's "use of force" to "prevent" voting in the National Assembly
"The governments of Bolivia, Brazil, Canada, Chile, Colombia, Costa Rica, Guatemala, Guyana, Honduras, Panama, Paraguay, Peru, Saint Lucia and Venezuela, countries of the Lima Group, condemn the use of force by the dictatorial regime by Nicolás Maduro to prevent the deputies of the National Assembly from freely accessing the session … to democratically elect their board of directors, "they said in a statement.
The Group has also considered that "the National Assembly has the constitutional right to meet without intimidation or interference to elect its president and board of directors" and has asserted that it is unaware of "the result of an election that has taken place without the full participation of the deputies who attended the session. "
On the other hand, the group has ensured that it follows "with extreme concern" the events that occur in Venezuela and has called on the international community to "work together to support the recovery of democracy and the restoration of the rule of law. " In Venezuela.
The National Assembly of Venezuela has elected Parra this Sunday as the new president in place of Juan Guaidó. The vote, in which Parra has had the support of the official deputies, has been rejected by Guaidó and his faithful, who have denounced a "parliamentary coup d'etat."
Parra has been elected without Guaidó being present in a session held despite the fact that several deputies have not been able to access the parliamentary headquarters due to police controls.