The life of Rohingya youth in Bangladesh: overcrowding and frustration in a forgotten humanitarian crisis
Plan Internacional promotes a new, more flexible learning system in the absence of space in refugee camps
MADRID, Aug. 25 (By Leticia Hijazo, responsible for humanitarian projects for Asia, the Middle East and East Africa of Plan International Spain) –
I arrived in Bangladesh in May to visit Rohingya refugee camps and host communities. I wanted to make an initial diagnosis of the emergency education project that Plan International Spain had begun to implement a few months ago as part of the response after the mass exodus whereby more than 700,000 Rohingyas were forced to flee Burma to Bangladesh in August. 2017
Two years later, the total Rohingya population in Cox's Bazar camps amounts to more than 900,000 people. Of these, more than half, 55 percent, are children whose testimonies can be heartbreaking.
It was my first trip to the country to support the local project team at the beginning of the activities, to know first hand the context and the challenges that children and adolescents face every day. For humanitarian professionals, it is essential to understand the specific characteristics of each crisis to carry out our work.
When I arrived at the camps I had a contradictory feeling. On the one hand, it seemed to me that the space was larger than I had imagined and, on the other, it made me quite claustrophobic. Around the camps you see boys and girls playing and small businesses and shops that the Rohingyas have established at the edges of the road over these two years.
However, the reality is that they can barely move. It is a feeling of physical opening but not mental; a feeling of claustrophobia because, in reality, they can do almost nothing: they cannot work, study or do anything beyond the established limits.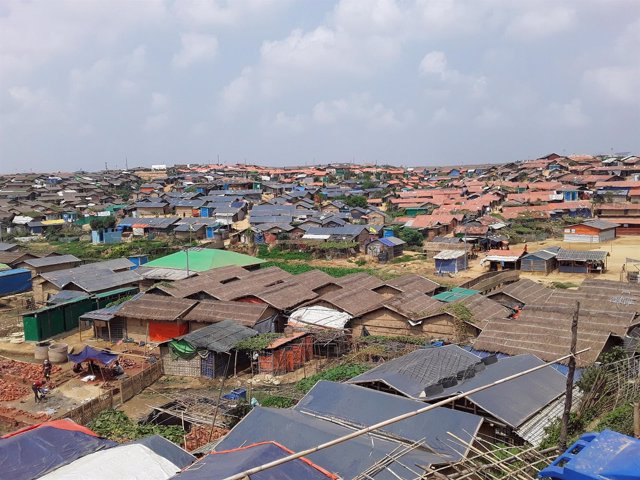 International Plan
In fact, a very clear particularity of this crisis is the lack of space. The mass exodus of 2017 occurred in terrible conditions and the level of despair of the Rohingya population was so high that it led them to launch with the post, settling in places that were initially temporary but have ended up being long-lasting.
The majority of Rohingya families live in extremely small spaces (some stores do not have more than 4 square meters) which has, in turn, caused access to education to be increasingly limited. Today, there are barely any educational centers and that same lack of space prevents new establishments that meet the minimum standards required.
That is why this new Plan International emergency education project is promoting a much more flexible alternative learning system that aims to fill this lack of space. The idea is to make the most of existing spaces, teaching classes in the largest stores.
EDUCATION GOES UP TO TEENS
When children cannot leave their homes (mostly adolescent women whose freedom of movement is more limited due to fear of their safety and cultural factors), education approaches them. The tutors, who have received previous training, go to the stores where they live to give the workshops, something that creates a greater sense of security and confidence to the young women.
From the humanitarian sector, addressing this crisis is a very complex challenge because, as we do in other emergencies, we initially started working to alleviate suffering and save lives, but, over time, it has become in a
Long-term situation.
From a humanitarian emergency crisis, it has become a situation sustained over time in which more durable services have to be offered with a view to the future; and there is no doubt that the future of what many call the lost generation goes through quality education.
At the beginning, we had a series of individual and group interviews with the boys and girls who were beginning to participate in the activities of the new Plan International project. We also had meetings with children and adolescents benefiting from another joint project between Plan International and UNICEF that has been implemented for some time. We wanted to measure the impact that these activities have on children to see if there was a difference between them and, indeed, there was.
Children who had been participating in this type of project for some time, some of whom expressed their desire to be police or doctors, among other professions, showed a better capacity for expression than those who had not attended
workshops This encouraged me and made me think that, thanks to this initiative, in a few months we could perceive positive changes in the children benefiting from this new program.
In general, when you talk to Rohingya refugees, you perceive that most have a sense of relief and security compared to Burma but, on the other hand, they tell you that in the camps they have to face other challenges and dangers such as
Store insecurity, fear of flooding or dangers while traveling on foot.
HIGH LEVEL OF FRUSTRATION
In addition, the level of frustration, especially in young people, is very high because they have a great concern about their future, about what they will do in a few years. The girls, although they were more withdrawn, also showed a lot of frustration because, although most of them want to continue their studies, their parents force them to stay at home to help with housework and for security reasons.
75 percent of Rohingya refugee teenagers interviewed for a Plan International report already told a year ago that they feel they cannot make decisions about their lives and 97 percent say they have to take care of household chores, including collecting Water.