The Legislature of El Salvador will discuss the approval of Bukele's loan on Monday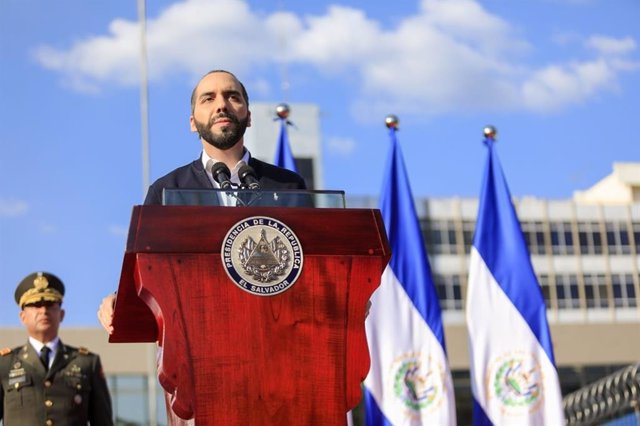 The president of El Salvador, Nayib Bukele, addresses his supporters after the extraordinary session of the Legislative Assembly. – TWITTER @ELCONSEJOSV
MADRID, 12 Feb. –
The deputies of the Finance Commission of the Legislative Assembly of El Salvador have agreed to continue the discussion on the loan that the president, Nayib Bukele, has requested for the third phase of his Territorial Control Plan next Monday.
The Bukele Territorial Control Plan has a planned three-phase development with a cost of more than 575 million dollars. The third phase, destined to "modernize" the Armed Forces and the Police, had to begin now and for that it needed Congress to give the green light to a loan of 109 million dollars preconceded by the Central American Bank for Economic Integration (CABEI).
The deputies refused in a vote held on Thursday. After that, Bukele convened for the following Sunday an extraordinary session of the Legislative Assembly using a constitutional article designed for "when the interests of the Republic merit it." Congress considered that the urgency was not such, so the opposition advanced that it would not go.
Thus, on Sunday, soldiers under President Bukele broke into the headquarters of the Legislative Assembly and policemen appeared in the houses of the assembly members with the verbal order to go to the parliamentary headquarters, which they did not do.
Bukele himself entered the parliamentary headquarters surrounded by soldiers and gave the body a week to approve the Territorial Control Plan. Bukele says that the opposition deputies who control the Legislative Assembly are at the service of the criminal gangs he intends to fight.
Already on Monday, the president of the Legislative Assembly, Mario Ponce, has informed that the Chamber has decided to unanimously condemn what they consider the "invasion" and "attempted coup d'etat" perpetrated on Sunday. In addition, Ponce has called on the Prosecutor to intervene.
For its part, the Constitutional Chamber of the Supreme Court of Justice of El Salvador has admitted the demand for unconstitutionality against the latest actions of the Government and has imposed a series of precautionary measures, among which Bukele is prohibited from using Armed Forces for purposes contrary to the Constitution and to cancel the convening of sessions of the Legislature by the Executive.
In a statement, the Government has warned that precautionary measures "could hinder" their work, with which "at all times has demonstrated its legitimate concern for the interests of the people." Despite not sharing the decision, he has assured that he will abide by "the order issued by the Constitutional Chamber" pending the final ruling.
In this regard, he has urged that when this occurs, the Constitutional Chamber "take into consideration the current interests of the republic in the matter of security, through an interpretation that allows the adaptation of the Constitution to the realities of the moment , so as not to restrict the valid and valid power conferred on the Council of Ministers, through the related constitutional provision ".