The leader of the Taliban will accept a "reduction of violence" in Afghanistan once the US signs peace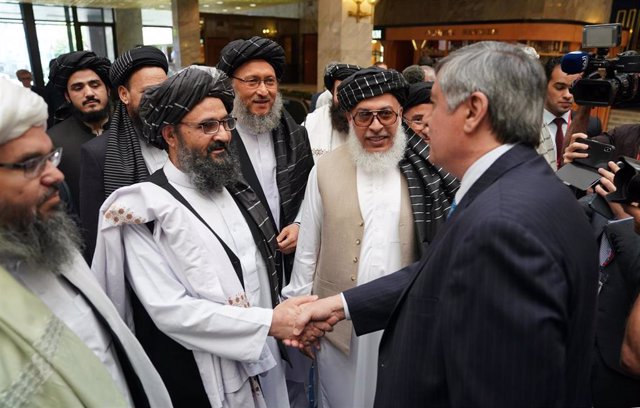 E leader of the Taliban political office in Qatar, Mullah Abdul Ghani Baradar, greets a senior Russian Foreign Ministry in a meeting in Moscow – Emin Dzhafarov – Archive
MADRID, Jan. 15 (EUROPE PRESS) –
The Taliban leader, Mullah Hebatulá Ajundzada, would have accepted a "reduction of violence" in Afghanistan for a period of seven days provided the United States previously signed a peace agreement, according to sources familiar with the negotiation process cited by local media
According to information collected by the Tolo TV network, Ajundzada would have accepted that this "reduction of violence", not a ceasefire, be applied in the main cities of the country once Washington signs a pact that includes the withdrawal of its forces from the country.
Thus, these sources have stressed that this "reduction of violence" would include the end of attacks by insurgents against cities in the country, the suspension of suicide bombings and the blockage of the main roads.
Sources close to the Taliban cited by the local newspaper 'The Afghanistan Times' have also confirmed that Mullah Ajundzada would have expressed approval for this plan.
For his part, Russia's special envoy for Afghanistan, Zamir Kabulov, has indicated that the insurgents "have agreed in principle to stop the preliminary fire even with the Government."
"After its signing, an environment will be created for intra-Afghan talks that include the Taliban, because we believe that the Taliban are also part of Afghan society. They will start talking and work on new modalities for Afghanistan and there will be an Afghan solution," he argued. , according to Tolo TV.
However, the National Security Advisor of Afghanistan, Hamdulá Mohib, reiterated during the day that "peace for the people means the end of violence" and that is why the Government "insists that a ceasefire is necessary to create an environment conducive to conversations. "
In this sense, he has argued that a ceasefire would demonstrate that "the enemies are not only serious about peace, but that it is in their hands to keep their share of a future agreement."
"People still expect to see the day when they can send their children to school and visit their friends without the preexisting fear of being able to target terrorism," he said.
In fact, the spokesman for the Afghan Presidency, Sediq Sediqqi, demanded that the Taliban commit themselves to respecting "a complete ceasefire" as a precondition for peace negotiations to end the conflict.
"The reduction of violence is not acceptable to the people and to the State at any cost. The general demand proposed by the people and by the Afghan government is to stop killing and terrorizing Afghan civilians," he said.
The Taliban have been talking with US diplomats for months to agree on the withdrawal of more than 20,000 troops from the international forces of Afghanistan in exchange for guarantees that the country will not be used as a base for terrorist attacks.
On the other hand, until now they have refused to negotiate directly with the government of the president, Ashraf Ghani, whom they consider a "puppet" of the West. Kabul has demanded a process of direct talks for the signing of an eventual peace agreement.