The leader of the British Conservative Party resigns after recent election setbacks
The President of the British Conservative Party, Oliver Dowden, handed in his resignation this Friday after the formation's infamous defeats in this Thursday's partial elections, which British Prime Minister and Conservative Party leader Boris Johnson took as a sharp touch and drew attention, although he has also indicated his willingness to continue in office after the last link in a long chain of blows.
The Conservatives, after losing to Labor in the Wakefield constituency election and, more importantly, losing the seat in Devon, have embarked on a Friday of "reflection", as Home Secretary Priti Patel has pointed out: a disaster they find themselves in a majority of 24,000 votes missed, only to give the seat to the Liberal Democrats in the end.
"We cannot continue to pretend nothing happened," Dowden conceded in his resignation letter, published via his Twitter account, calling Thursday's election "the latest in a long series of very bad results." summarized and also referred to the party's resounding defeat in local elections on May 5, when the Conservatives lost nearly 400 seats in county councils.
"Our supporters are upset and disappointed by recent events, feelings I share," he added in the letter.
Johnson, during an official visit to Rwanda, has acknowledged as "absolutely true" that the party suffered "tough results in the elections," which he attributed to the "difficult moment voters are going through" due to the rise in prices.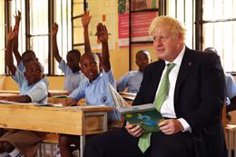 Johnson says it would be 'crazy' to resign if Conservatives lose in UK by-election
"We have to recognize that more needs to be done, I have to listen to what people are saying and in particular the difficulties they are facing, especially the cost of living, which for me is the number one problem," he added Collected Sky News.
Johnson is therefore adamant of his will to continue leading the country despite months of erosion of his figure, which reached a peak on Monday last week when he sidestepped an internal motion of no-confidence by his party over the scandal surrounding the Downing Street parties during the coronavirus pandemic, knowingly about the ground his party is losing in the polls.
The latest, conducted by Savanta ComRes and released Thursday night, extends the Labor opposition's lead to 11 points in a future general election, where it would take 150 seats from the Conservatives, including those of the Prime Minister himself or anyone else deemed important into the cabinet as Brexit officer and prominent adviser to Johnson, Jacob Rees-Mogg.
Labor leader Keir Starmer also stepped in front of the microphones this Friday to welcome the election result and savor the good forecasts for new elections. "The Conservative Party has completely imploded. They are unimaginative and out of touch with the reality of this country and they know it. We are on the right track for a Labor government which will definitely happen," he said, explained Starmer.