The Iraqi government says Iran warned it before attacking US bases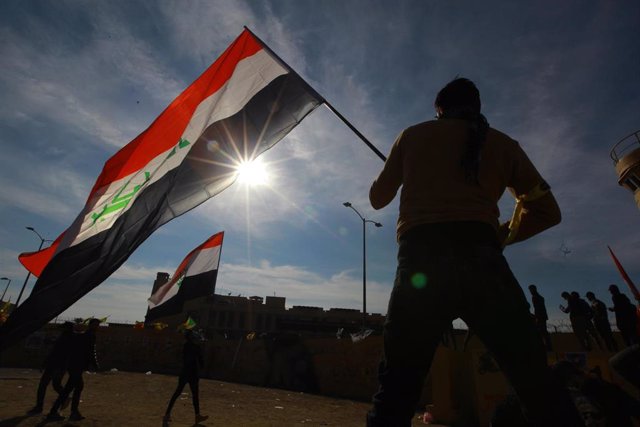 A protester with a flag of Iraq – Ameer Al Mohmmedaw / dpa
MADRID, Jan. 8 (EUROPE PRESS) –
Iran notified Iraq in advance of the missile attack against two US bases on Iraqi soil, a military spokesman on behalf of the country's acting prime minister, Adel Abdul Mahdi, who is also commander in chief, said Wednesday.
"Shortly before midnight on Wednesday we received an official verbal message from the Islamic Republic of Iran that the Iranian response to the murder of the martyr Qasem Soleimani had begun or was going to begin shortly," said General Abdul Karim Jalaf, quoted by the news agency NINA.
In its message, Iran notified the Iraqi authorities that the attack would be limited to positions of US troops in the country, although they did not reveal the specific place that would be the target.
"At the same time, the US side informed us that missiles were falling in the section of US forces at the base of Ain al Asad in Anbar, and Harir, in Erbil," added spokesman Abdul Mahdi, who has assured that Baghdad had immediately informed the United States after the Iranian warning.
General Jalaf has confirmed that there have been no Iraqi victims in the Iranian attack and has specified that the Iraqi prime minister is maintaining contacts in an "attempt to contain the situation and that there is no open war, in which Iraq and the region they would be the first victims. "
"Iraq rejects any violation of its sovereignty and attacks against its territory," the general stressed. In this regard, the Iraqi spokesman has called for "containment", to impose "the language of reason" and respect for international conventions, as well as the Iraqi State.
The Iraqi Revolutionary Guard bombed two air bases with US forces in Iraq during the night, in retaliation for the operation that caused the death of General Qasem Soleimani, commander of the Quds Force of the Revolutionary Guard last week.