The interim government of Bolivia calls the IACHR's report "biased"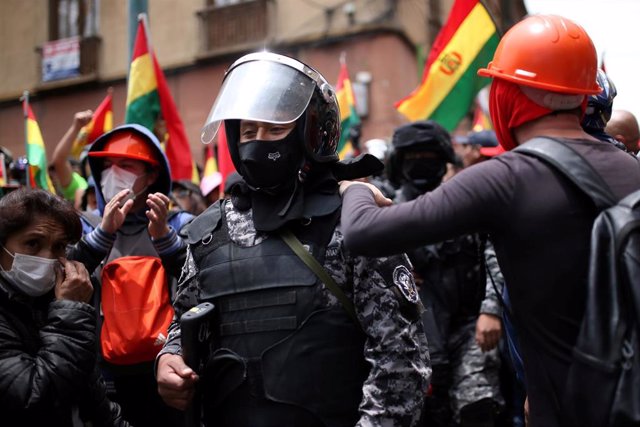 Police during protests against Evo Morales in La Paz – REUTERS / LUISA GONZALEZ – Archive
Evo Morales warns that the "coup" will be judged by the "massacres" of Sacaba and Senkata
MADRID, Dec. 11 (EUROPE PRESS) –
The interim Government of Bolivia has assured that the preliminary report released by the Inter-American Commission on Human Rights (IACHR) is "totally biased" and has recriminated this group, linked to the Organization of American States (OAS), which has acted "unilaterally ".
The IACHR expresses its "extreme concern" over the "serious violations of Human Rights" detected during a recent visit to the country, after which it has confirmed the death of at least 36 people between the outbreak of the political crisis at the end of October and November 26
Interior Minister Arturo Murillo has reacted "with great pain" to this report, "totally biased" and that "does not reflect reality." "He is favoring only narcoterrorism," Murillo lamented at a press conference, hours after the document was published.
"We are going to reverse it and show the evidence of what has happened in our country," proclaimed the minister, who has accused the IACHR of not making any consultation with the current Executive, headed by Jeanine Áñez as acting president .
The IACHR has made 16 recommendations to the Bolivian authorities, including a "national process of dialogue and reconciliation" and the beginning of an "impartial international investigation" to which the Executive of Áñez has already opened the door, according to a diplomatic note collected in the report.
The Government, says this note, "fully agrees" with these inquiries, so that it is this investigation that analyzes "acts of violence and human rights violations that occurred in Bolivia between October and December 2019", According to the report of the IACHR.
The list of victims of the international mission includes "at least 18 people" who lost their lives in the "massacres" committed in Sacaba and Senkata, security operational scenarios against defenders of the resigned president Evo Morales.
Morales, asylum seeker in Mexico, has applauded on Twitter that the report "confirm" these "massacres." "The coupists Añez, (Luis Fernando) Camacho, (Carlos) Mesa and all who shot believed they could kill without any consequences. Now they will be tried by national and international courts," he warned.