The indigenous forum of the UN asks Bolivia to respect the rights of the detained former president of the TSE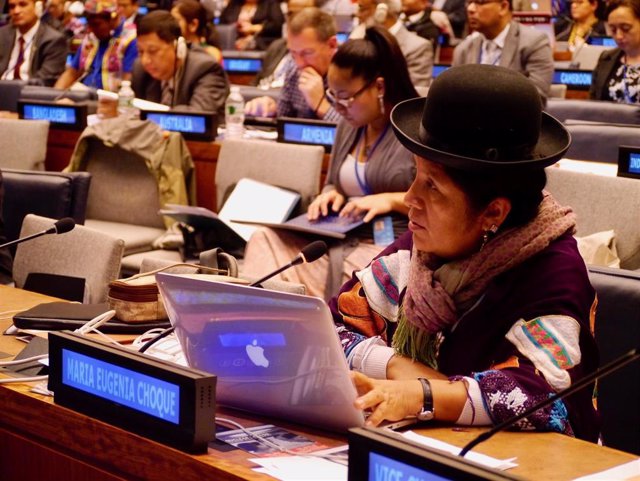 María Eugenia Choque Quispe, Former President of the Supreme Electoral Tribunal of Bolivia – UNITED NATIONS – Archive
MADRID, Nov. 17 (EUROPE PRESS) –
The Permanent Forum for Indigenous Issues of the United Nations has asked the current Bolivian authorities to guarantee the security of the former president of the Supreme Electoral Tribunal (TSE) María Eugenia Choque Quispe, arrested for alleged irregularities during the controversial presidential elections that culminated in the Resignation of former President Evo Morales.
The president of the forum, Anne Nuorgam, has denounced that since her arrest on November 10, Choque Quispe "has not received due guarantees for the exercise of her basic human rights and for the respect for the dignity of her person."
The former president of the TSE has been in the Obrajes Women's Prison in La Paz, Bolivia since November 12, on charges "allegedly related to the recent electoral process," according to the forum.
Morales left office last 10 after losing military support and after the Organization of American States refused to validate the outcome of the elections in which he renewed his mandate, alleging possible electoral fraud, in which even members could be involved of the TSE.
The forum also denounces that both Choque Quispe and his relatives "have received threats against their physical integrity, as reported to the Bolivian Ombudsman's Office on November 13".
For all these reasons, the forum "urges the national authorities to guarantee the personal safety of Quispe Shock and to grant due guarantees for the exercise of their human rights, in particular their
right to life and due process, as well as guarantees to the personal safety of family members. "
The forum recalls, finally, that the former president is a respected international expert on the rights of indigenous peoples and former vice president and expert member of the United Nations Permanent Forum on Indigenous Issues.