The IFJ numbers 49 journalists killed in 2019, the lowest in two decades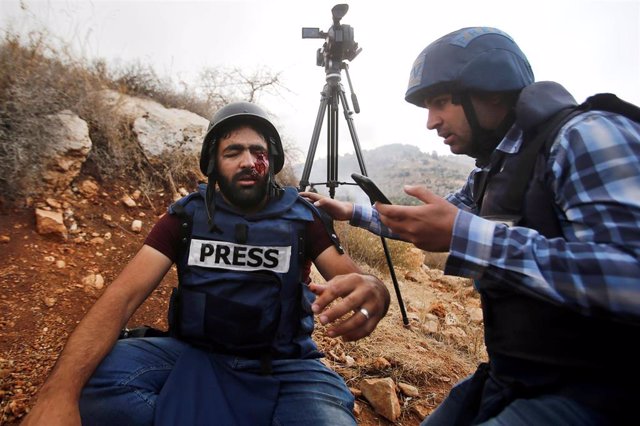 Palestinian journalist wounded in one eye during protests over the Israeli occupation of the West Bank. – REUTERS / MUSSA QAWASMA
MADRID, Dec. 10 (EUROPE PRESS) –
The International Federation of Journalists (IFJ) has highlighted on Monday the violation of the rights and freedoms of the press and its professionals around the world, with special emphasis on the complaint of the 49 journalists killed so far in 2019, the lower figure compared to the previous two decades.
Coinciding with the celebration of Human Rights Day, the IFJ has denounced that the persecution of the media has become a routine on a global level. Although, as he has emphasized, the number of murders has been the lowest in the last two decades, the president of the journalism body, Younes Mjahed, explained that "it can hardly be attributed to the actions of governments."
"While the number of murders has decreased, threats, imprisonment, harassment, censorship and self-censorship, as well as the use of legal and administrative measures continue to undermine the freedom of the media and Human Rights throughout the world," the president denounced the FIP.
In its report, the IFJ has estimated the murders in 49, which have occurred in 18 different countries. Mexico tops the black list with 10 dead, which causes Latin America to be the continent where more deaths occur in this regard with 18 homicides.
Asia recorded 12 murders, Africa, nine; Middle East and the Arab world, eight; while in Europe, two journalists were killed.
Despite the numbers, it is a sharp decrease in the 95 homicides recorded last year, thus being the lowest figure since 2000, when 37 journalists and other media professionals were killed. This year's death toll is the fourth lowest since 1990, when the IFJ began publishing annual reports on murdered journalists while exercising their profession.
The fall in the murders is due in part to the collapse of the Islamic State terrorist group in Iraq and Syria, and the resignation of foreign professionals to cover areas such as those already mentioned, or others such as Yemen.
In that sense, the IFJ understands that journalists and reporters are "cautious", but has lamented that this situation of lack of investment and security in the travel of media professionals "makes people less informed about matters of public interest ".
The IFJ has not missed the opportunity to highlight other serious violations that are being committed against the rights of journalists in other parts of the world, including attacks against media professionals in Palestine, Pakistan and the Philippines; the arrest of his colleagues by profession in Turkey and Burundi; the assaults on media personnel covering the protests in France and Hong Kong.