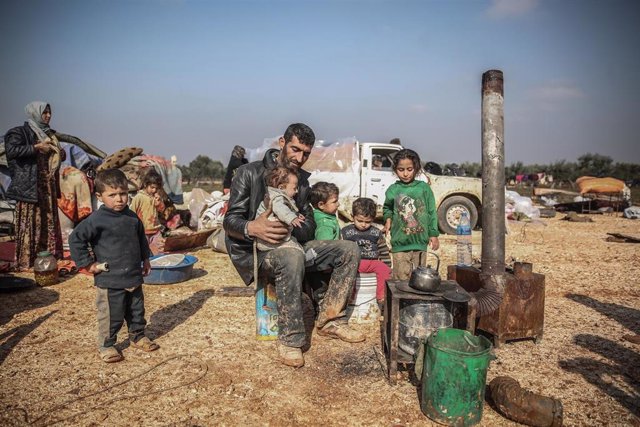 A family of displaced Syrians in Idlib – Anas Alkharboutli / dpa
Humanitarian organizations are overwhelmed by the magnitude of needs
MADRID, Feb. 14 (EUROPE PRESS) –
More than 800,000 people have been displaced since December 1 in the framework of the offensive launched by the Bashar al Assad regime, with support from Russia, to regain control of the Idlib region (northeast), the last bastion controlled by the rebels who raised arms against the president of Syria, according to the latest data from the Office for the Coordination of Humanitarian Affairs (OCHA).
The Idlib offensive already leaves more than 800,000 displaced, 60% children
Of the more than 800,000 displaced people until February 12, 60 percent are estimated to be children, while if women are included, the total rises to 81 percent. Between Sunday and Wednesday alone, another 142,000 more people left their homes in northwestern Syria.
"The humanitarian community is doing everything it can but it is surpassed by the scale of needs," said OCHA, arguing that "an immediate cessation of violence is critical." Likewise, he added, "more resources are needed, including funds, to save lives and alleviate their suffering."
In this regard, he explained that the preparedness and response plan planned to serve 800,000 people over a period of six months and which entered into force on December 1 has been overshadowed by current figures, so it will be reviewed.
"The humanitarian situation for people in northwestern Syria is at a critical point due to continued hostilities, the harsh winter and the needs that already existed and were serious," said the UN agency, which has affected in which "the massive scale and speed of this displacement."
Thus, 93 percent of the newly displaced say that their main need is shelter. According to the latest data, 36 percent of the newly displaced are in rented houses or with host families, while 17 percent have settled in camps. Another 12 percent are living in separate tents while 15 percent are in buildings under construction.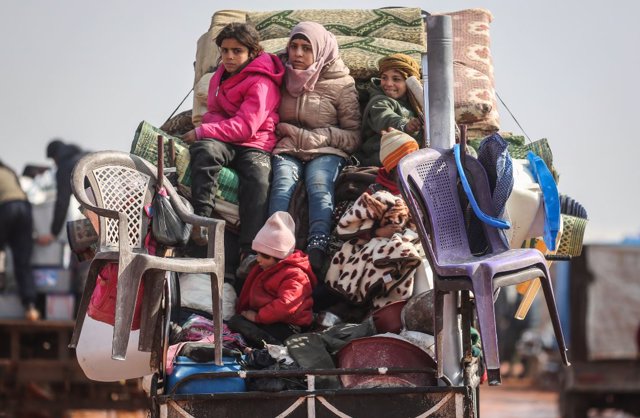 A family of displaced Syrians in Idlib – dpa
Some 82,000 displaced people are sleeping in the open, according to OCHA, which has stressed that winter cold, including snow and freezing temperatures, are exacerbating the already complicated conditions.
On the other hand, as a result of hostilities and displacement, "the provision of humanitarian assistance is being severely weighed down," OCHA has acknowledged, given that many humanitarian workers have been equally displaced. At least 72 sanitary facilities have suspended their services.
The World Food Program (WFP) has also denounced the problems in providing assistance. In a statement he explained that on Tuesday he had to temporarily suspend distributions because the intensification of hostilities had prevented the entry of trucks with supplies from Turkey.
"We are deeply concerned about the fate of thousands of families who had to leave their homes in the harsh winter in search of security in camps that are already saturated," said WFP regional director Muhannad Hadi, denouncing that "in Syria, civilians continue to pay the price of conflict. "