The ICTY confirms having received a complaint for crimes against humanity against Evo Morales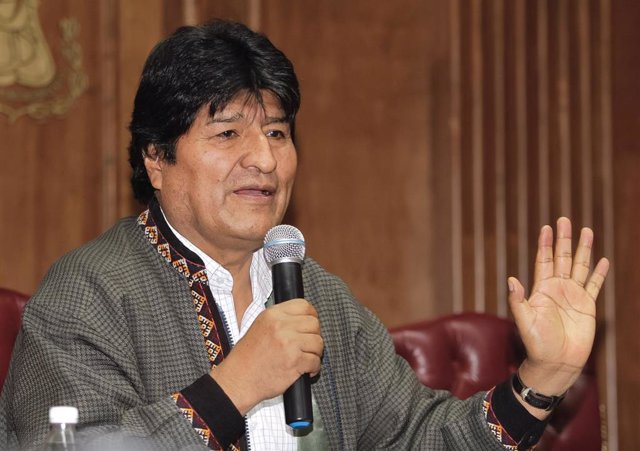 The former president of Bolivia Evo Morales – Alejandro Guzmán / NOTIMEX / dpa
MADRID, Dec. 10 (EUROPE PRESS) –
The International Criminal Court (ICC) has confirmed having received a complaint for crimes against humanity against the former president of Bolivia Evo Morales, as announced by lawyer Alfonso Dorado.
"The Prosecutor of the Criminal Court of The Hague receives a complaint against Evo Morales and former ministers for alleged crimes against humanity. Subsidiary mechanism can be activated," he said in his account on the social network Twitter.
Thus, it has published a series of documents in which the TPI indicates that "this communication has adequately entered the Office's Communication Record". "We will give consideration to this communication, as appropriate, according to the provisions of the Rome Statute of the ICP," he added.
"Please note that this recognition does not mean that an investigation has been opened or that this investigation will be opened by the prosecutor's office," said Mark Dillon, head of the Prosecutor's Information and Evidence Unit .
The lawsuit filed with the TPI includes "alleged co-authors" the former Bolivian Vice President Álvaro García Linera, the former Minister of the Presidency Juan Ramón Quintana, the former Minister of the Interior Carlos Romero, the former Minister of Defense Javier Eduardo Zabaleta, the former Minister of Culture and Tourism Antonia Alanoca and the former deputy of the Legislative Assembly of La Paz Gustavo Torrico.
The Government of the self-proclaimed interim president of Bolivia, Jeanine Áñez, announced on November 22 that she would file two complaints against Morales, one before the ICTY for crimes against humanity and the other in national instances for sedition, terrorism and armed uprising. The latter has already been formalized.
In response, Morales said that "those who have to be concerned about the ICC are Áñez and (the Minister of Government, Arturo) Murillo for the crimes against humanity they are committing, by ordering the military to kill my sisters and brothers , trying to cover these crimes with an illegal decree. "
Morales resigned on November 10 after the Organization of American States (OAS) confirmed "irregularities" in the presidential elections of October 20, whose official results granted him a fourth term.
Days later he arrived in Mexico, where he is in the capacity of political asylum. The former tenant of the Burned Palace denounces that he has been the victim of a "coup d'etat" and, consequently, does not recognize his interim successor, Jeanine Áñez.
More than 30 people have died and hundreds have been injured as a result of clashes between Morales supporters with security forces and other sectors. In recent weeks the situation has calmed down, although there are still protests.