The IAEA confirms that Iran has broken another nuclear commitment by exceeding the limit of stored heavy water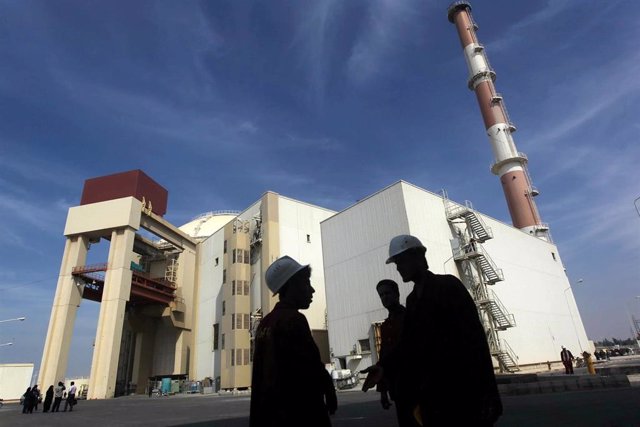 Bushehr nuclear power plant in Iran – REUTERS / STRINGER. – Archive
VIENNA, Nov. 18 (Reuters / EP) –
The Iranian authorities have broken another of their commitments to the nuclear agreement signed in 2015 by accumulating more than 130 metric tons of heavy water, a moderator used in a type of reactor that Iran is developing, according to a report by the International Agency for Atomic Energy (AIEA).
"On November 16, 2018, Iran informed the agency that its stocks of heavy water have exceeded 130 metric tons," he said in a report delivered to member countries and collected by Reuters news agency.
In it, he said that "on November 17, 2019, the agency verified that the Heavy Water Production Plant was operational and that Iran's heavy water stocks were 131.5 metric tons."
In 2018, the president of the United States, Donald Trump, decided that his country should abandon the nuclear agreement signed in July 2015 and reactivated the sanctions against Tehran, especially against the oil sector.
After the United States left, the Islamic Republic called on the rest of the signatory countries to focus their efforts on ensuring compliance with the pact in relation to trade relations with Iran and subsequently announced that it would abandon the nuclear commitments envisaged in the pact when considering that the other parties did not cover the absence of the United States.
However, he denounced the lack of action to compensate for the US exit from the agreement and announced that he will take steps to breach part of his commitments unless the situation is reversed.
In this regard, he has insisted at all times that these breaches are contemplated by the 2015 agreement in case some of the parties cease to maintain their commitments and stressed that they are "reversible" if there is a response to their demands. Tehran has said it is open to dialogue if Washington withdraws all sanctions and re-enters the pact.