The IACHR expresses its "deep concern" for those killed in the context of protests in Bolivia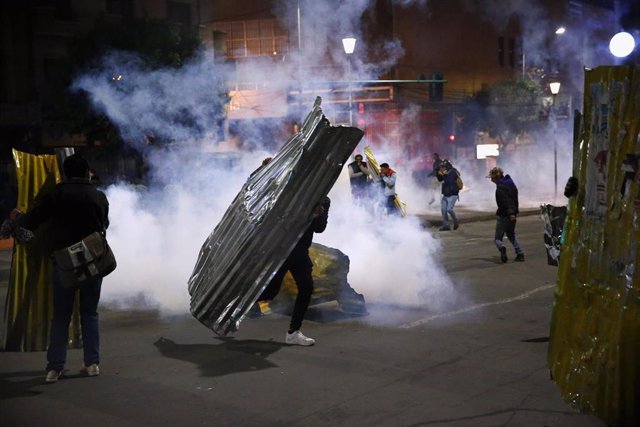 Clashes between supporters and detractors of the president of Bolivia, Evo Morales, in La Paz – REUTERS / DAVID MERCADO
MADRID, Nov. 15 (EUROPE PRESS) –
The Inter-American Commission on Human Rights (IACHR) on Thursday expressed its "deep concern" about the deaths recorded in Bolivia in the context of the protests unleashed after the presidential elections held on October 20.
"The IACHR expresses deep concern about the number of deceased persons reported in the context of social conflicts in Bolivia," said the agency through its account on the social network Twitter.
The director of the Institute of Forensic Investigations (IDIF) of Bolivia, Andrés Flores, reported on Wednesday that the death toll during the protests after the elections in the country amounted to ten, of which eight died from a firearm projectile.
"The IDIF conducted the forensic assessment of 10 bodies nationwide, four are from Santa Cruz, three from Cochabamba, two from La Paz and one from Potosí. Of the total cases, eight lost their lives due to a firearm projectile," Flores confirmed.
The IACHR has also asked the social actors "to refrain from using violence" and has condemned the "excessive use of force" by the security forces.
The agency also reminded Bolivia of its obligation to carry out an investigation of the facts, "as well as identify and punish those responsible."
Bolivia is in deep crisis since the presidential elections of October 20. The official results gave Morales the victory, but the opposition candidate Carlos Mesa denounced a "gigantic fraud" of the Government.
Both sides called for the mobilization of their supporters, which resulted in clashes, blockades and looting that have resulted in at least ten dead and hundreds of detainees.
In this context, Morales agreed that the Organization of American States (OAS) conducted an electoral audit that has finally confirmed irregularities. In response, the still president agreed to hold new elections, despite which the Armed Forces claimed his departure from the Burned Palace.
Morales resigned on the same Sunday and Monday night (local time) embarked on a plane to Mexico, where he arrived Tuesday as a political asylum. "As long as I have life, we continue in politics," he has already proclaimed on Mexican soil.
The second vice president of the Senate, Jeanine Añez, has proclaimed herself acting president, given that both the vice president, Álvaro García Linera, and the presidents of the Senate and the Chamber of Deputies – which would precede it in the succession line drawn by the Constitution– They have also resigned. You have already appointed a new Government.