The IACHR denounces that there are at least 23 dead and 715 injured since the beginning of the crisis in Bolivia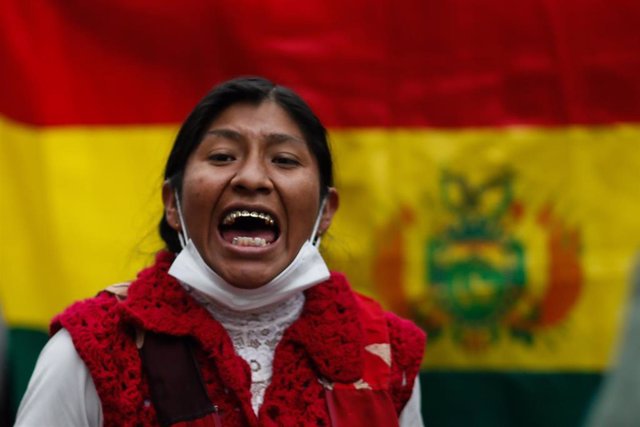 Protests in Bolivia. – Gaston Brito / dpa
MADRID, Nov. 17 (EUROPE PRESS) –
The Inter-American Commission on Human Rights (IACHR) has denounced this Sunday that at least 23 people have died and 715 have been injured since the beginning of the crisis in Bolivia with the elections last October 20.
"Since yesterday there are nine dead and 122 injured since the combined repression of the Police and the Armed Forces. At least 23 people have been killed and 715 people have been injured since the beginning of the institutional and political crisis," the agency said in its statement. twitter account.
The IACHR has repeatedly expressed concern about the actions of Bolivian security forces in the context of the protests that take place in the country.
Thus, he has criticized the "disproportionate use" of police and military force and the use of firearms that, in his opinion, "should be excluded from the devices used to control social protests."
In addition, it has specified that the inter-American standards establish that the presence of the Armed Forces in the control of disturbances should be limited "to the maximum" and that tear gas threatens "seriously" against international legal standards.
The political crisis in Bolivia broke out after the presidential elections held on October 20. Morales proclaimed his victory while the opposition denounced a "gigantic fraud." The audit of the Organization of American States (OAS) has confirmed "irregularities."
Morales resigned on Sunday and arrived in Mexico on Tuesday as a political asylum. Áñez has proclaimed himself interim president to avoid the power vacuum left by the resignation of the indigenous leader and other senior officials, ensuring that his goal is to hold new elections.
The resignation of Morales joined those of other senior officials, including calls to replace him according to the line of succession drawn by the Constitution, so Jeanine Áñez, as second vice president of the Senate, took over the country.
Áñez has promised that only the time necessary to hold new presidential elections will remain in power, although he has clarified that Morales will not be able to compete in them, thus asserting the result of the 2017 referendum, which was reversed by the Constitutional Court .
Morales and his followers have described what happened as a "coup d'etat."