The Hong Kong Polytechnic tries to convince the latest protesters to leave the premises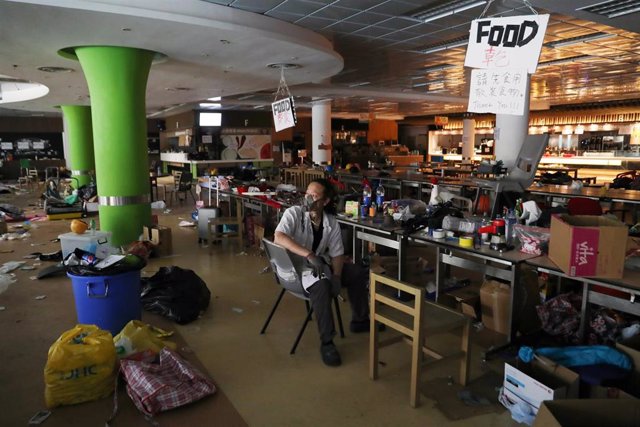 Hong Kong Polytechnic University cafeteria amid protests – REUTERS / LEAH MILLIS
MADRID, Nov. 26 (EUROPE PRESS) –
A group of people selected by the Polytechnic University of Hong Kong has entered the university campus to convince the last protesters who have been there for days to leave the premises, local newspaper 'South China Morning Post' reported.
The head of the Hong Kong regional government, Carrie Lam, said on Tuesday that the police will not access the university campus until it has been found that there are no entrenched protesters inside.
The message from Carrie Lam comes after the Polytechnic University published five communiqués in the last 24 hours calling on the authorities to end the siege on the campus and not make arrests.
The group that has been sent to the campus is made up of about 50 people, including university executives, security guards, counselors and doctors from the Red Cross, and has been organized into six teams that have entered the Polytechnic at 9.30 a.m. this Tuesday to check if there are protesters inside the center.
Lam explained that a police security group has been created, composed of high school principals, psychologists, social workers, medical staff and negotiators to address the situation in the Polytechnic, but said that the group will only be activated if the university center does not get the evacuation of all students.
"We will only enter the campus at the right time, hoping not to provoke the people inside," said Carrie Lam. "I trust that the group does not have to be deployed, if the Polytechnic University working group manages to persuade people to leave campus safely. The mission is still based on convincing them to leave," he said.
The leader of the Hong Kong Government has said that she is aware of the tense relations between the Police and the protesters and that, for that reason, she has wanted to adopt "cooling" measures.
In an attempt to end the confinement on the Polytechnic University campus, the Police announced that it will not arrest protesters who are willing to leave the university center but do not rule out that they can be arrested later.