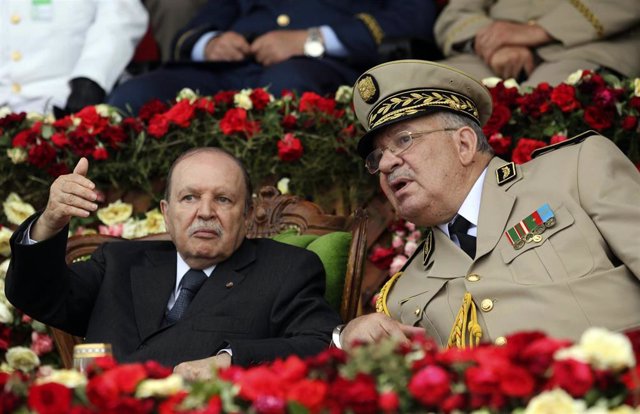 The head of the Algerian Army, General Ahmed Gaed Salá, in an archive image with Buteflika – REUTERS / RAMZI BOUDINA – Archive
The Chief of Staff of the Army and Deputy Minister of Defense of Algeria, Lieutenant General Ahmed Gaed Salá, died Monday as a result of a stroke, as reported by the Algerian news agency APS and the newspapers' Tout sur l'Algerie 'and' The Watan '.
General Salá, 79 years old and one of the most powerful military commanders of the Abdelaziz Buteflika regime, has been one of the key figures in promoting the resignation of the former president and in the process of transition of the country until the holding of the last presidential elections. The elections were rejected by the protesters who knocked Buteflika down for considering them a maneuver to keep the regime in power and gave Abdelmayid Tebune the winner.
After the death of General Salá, the president of Algeria has decreed three days of official mourning and has transferred his condolences to the Armed Forces. Tebune has appointed the Commander of the Land Forces, General of the Said Chengriha Division, as interim chief of the Army on an interim basis.
The prominent role of the Armed Forces in Algeria was revealed last week in the inauguration of the new president, who embraced General Salá as soon as he took office and granted him the military merit order in one of his first decisions.
Shortly after protests against the regime began over Buteflika's decision to reapply as a candidate, General Salá gave a televised speech in which he called on the president to leave power.
Subsequently, the Army, under the command of Salá, supported a series of arrests of Buteflika allies and businessmen related to the ex-president, in the framework of an anti-corruption operation that was interpreted as a purge of military rivals in the regime, according to reports Reuters
The protesters, however, were not content with these changes and have maintained protests against the regime, flatly rejecting the presidential elections that have placed Tebune at the head of the country. One of the main demands of the protesters is that the Armed Forces cease to have political decision-making capacity to give way to a civil regime.