The Government warns that those responsible for the deaths in the protests "must suffer the consequences"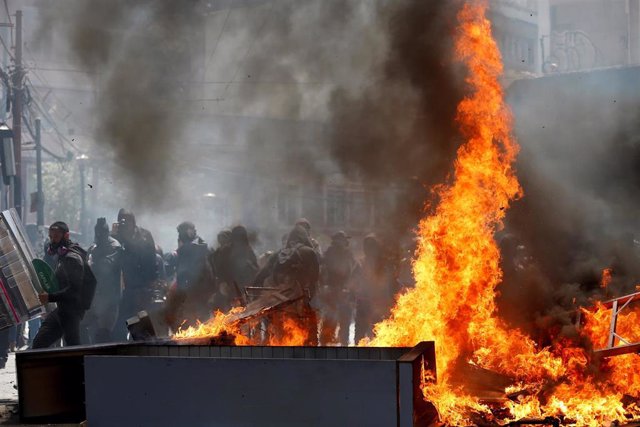 Riots in Valparaíso (Chile) during protests against the Government – REUTERS / RODRIGO GARRIDO
MADRID, Oct. 23 (EUROPE PRESS) –
The Minister of Justice of Chile, Hernán Larraín, has warned on Wednesday that those responsible for the death of 18 people, in the framework of the protests that erupted a week ago, "must suffer the consequences", whether they are members of the forces of security or civilians.
"It hurts us deeply to verify the existence of people who have died," Larraín said in statements to the media from La Moneda, according to the Chilean newspaper 'La Tercera'.
A total of 18 people have lost their lives due to clashes between protesters and security forces in these six days of protests against the Government, according to the balance of victims offered hours before by the Undersecretary of Interior, Rodrigo Ubilla .
The National Institute of Human Rights (NHRI) has filed complaints about the death of five people at the hands of the military or police. The agency has reported that these days it has received complaints about torture and harassment, among other abuses, of detainees.
The director of the NHRI, Sergio Micco, met on Wednesday at the Government Palace with Piñera, Larraín and the Undersecretary of Human Rights, Lorena Recabarren, to address these cases.
Larraín has guaranteed that the NHRI will have "the greatest access and fluidity so that it can freely exercise its responsibility to be the observer, the guarantor that human rights are effectively respected at all times and places."
He also said that "all those with responsibilities must suffer the consequences." "Our Government, like all Chileans, has a commitment to inalienable democracy," he stressed.
In any case, the communist deputies Carmen Hertz and Camila Vallejo have announced that they have requested from the Inter-American Commission on Human Rights (IACHR) "a precautionary measure to protect the citizens of the Metropolitan Region (of Santiago) and of all regions where there have been wounded and dead. "
Protests broke out last Thursday over the fourth rise in the price of the subway ticket in a few months but have been increasing to denounce social inequality.
Piñera has apologized for the "lack of vision" about the problems of Chileans and has announced a battery of social measures, including raising the minimum wage, to remedy them.