The Government of Venezuela charges against the US for its "interventionism" in the reelection of Guaid ó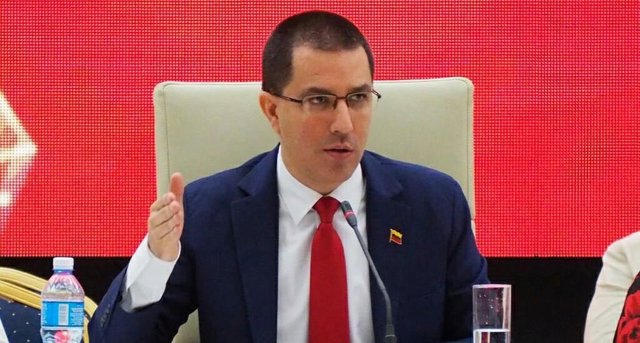 Jorge Arreaza – TWITTER / @ CANCILLERIAVE – Archive
MADRID, Jan. 6 (EUROPE PRESS) –
The Government of Venezuela has charged this Sunday against the United States for its "vulgar interventionism" in the re-election of the self-proclaimed president in charge of Venezuela, Juan Guaidó, as president of the National Assembly in an alternative session to the one held at the parliamentary headquarters.
"We reject the vulgar interventionism of the Administration (of the president of the United States, Donald) Trump in internal affairs of Venezuela and its institutions," said Venezuelan Foreign Minister Jorge Arreaza.
"They do not quite understand that we are an independent and sovereign country," he continued, while warning the American country that "they should deal with the disaster they intend to cause with new oil wars."
The Secretary of State of the United States, Mike Pompeo, has congratulated Guaidó for his re-election and has ensured that "only a transitional government that organizes free and fair elections can end the crisis."
In this context, Arreaza has described what happened with the second vote of the National Assembly as "circus" and "its coup strategy in 2019". "They organized a new circus today, trying to prolong the aggression against the people of Venezuela and the fiction of a 'fake' and non-existent government," he said. "Result: another intrusion, another awkwardness, another failure", has settled.
"While in Washington they continue with their imperial fantasy, trying to impose 'fake' governments and appropriate oil, with criminal sanctions against the economy and the people of Venezuela, in Caracas we work from reality, for our independence and the right to live in peace ", concluded Arreaza.
The National Assembly of Venezuela has ratified Guaidó as president in an alternative session with 100 votes against the 81 won by opposition dissident Luis Parra in the session held at the Federal Legislative Palace hours earlier. For the re-election a quorum of 84 deputies is necessary.
Parra has been elected without Guaidó being present in a session held despite the fact that several deputies have not been able to access the parliamentary headquarters due to police controls.
For their part, from the self-proclaimed Government of Venezuela headed by Guaidó, they have denounced a "coup d'etat" and videos of a line of police training have been disseminated, preventing the passage of Guaidó and several of his followers with their shields.