The Government of New Zealand reports that four of the victims of the volcano are still in a "critical state"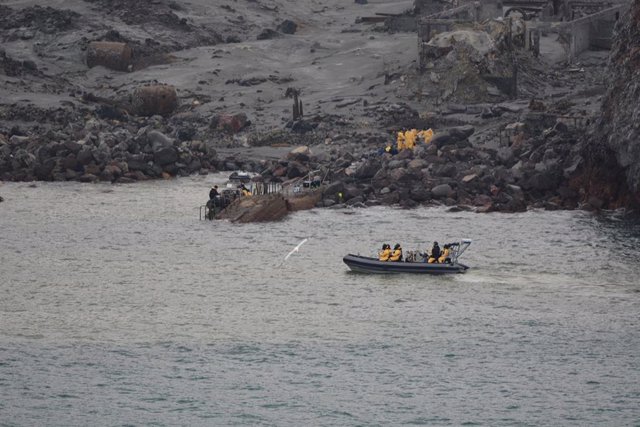 Emergency personnel during the search for missing persons after the eruption of the volcano on the White Island in New Zealand. – – / NEW ZEALAND DEFENSE FORCE via / DPA
WELLINGTON, Jan. 8 (DPA / EP) –
The New Zealand Ministry of Health has reported on Wednesday that four of the victims of the eruption of the Isla Blanca volcano that killed 19 people are still "critical."
"There are 13 people left in four hospitals in New Zealand," said New Zealand General Health Director Ashley Bloomfield.
Bloomfield has explained that another thirteen people have been transferred to Australia during the weeks after the disaster, which took place on December 9 when 47 tourists were on White Island, located on the north coast of New Zealand.
"This tragedy touched all New Zealanders and, of course, also affected the foreign visitors we had received on our shores," said Bloomfield, who has also explained that the foreign wounded will return home during the next month.
The official number of victims amounts to 17, after the Police confirmed a few weeks ago that one of the injured died in the hospital where he was admitted.
On the eve of Christmas Day, the Police also announced that the search for the only two people who were still missing were paralyzed. Winona Langford, a 17-year-old Australian, and Hayden Marshall-Inman, a 40-year-old New Zealand tour guide. Experts believe that their bodies are in waters near the coast and could be dragged to the northern tip of the island.
The tragedy has raised a strong controversy in New Zealand towards the tourism industry and local authorities, which are criticized for allowing tourists to have access to an island with an officially active volcano.
New Zealand Prime Minister Jacinda Ardern explained that investigations by authorities, as well as forensic doctors, could be extended by one year and that depending on the results, there could be criminal penalties of up to five years in jail.