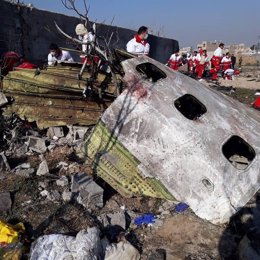 Remains of the damaged Ukranian International Airlines Boeing 737 plane near Tehran shortly after taking off from Tehran airport – IRAN TWITTER HALF RED MOON
MONTREAL / TEHERAN, Jan. 14 (DPA / EP) –
The International Civil Aviation Organization (ICAO) has announced Monday that it has accepted an invitation from the Government of Iran to collaborate in the research work on the passenger plane of a Ukrainian airline killed in the vicinity of the airport of Tehran after "a human error" committed by the Army of the Persian nation, and in which the 176 people who were on board died.
The Government of Iran invites ICAO to collaborate in the investigation of the shot down Ukrainian plane
The ICAO, a specialized agency of the UN that since 1944 acts as an observer in the defense and promotion of global air safety, has announced that it will send a delegation to Tehran in the coming days and will join the rest of foreign organizations and experts that They have been invited by the Iranian Government.
The announcement comes shortly after Iran is facing international scrutiny over the authorities' delay in acknowledging responsibility for the Ukraine International Airlines plane crash, after several days rejecting any involvement in it.
Iran's President Hasan Rohani announced that the aircraft was "unintentionally shot down" by the Army due to "human error," while justifying that the event took place "in an atmosphere of intimidation in the United States and in defense of Washington's possible military attacks. "
From the Speaker of the Persian Government it has been insisted that Rohani received the details of the accident two days after it occurred and that he manifested himself as soon as he knew what had happened.
The plane was shot down a few hours after Iran fired on the Iraqi bases that house US forces, an act of reprisal against President Donald Trump's decision to kill Iranian General Qasem Soleimani.