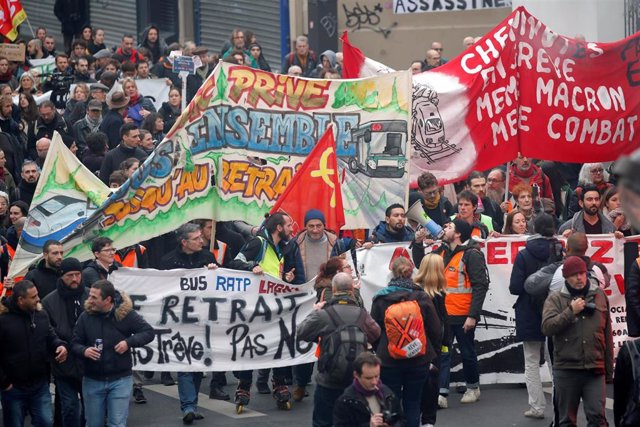 French protesters during the demonstrations against the Emmanuel Macron reform package that has paralyzed the country during the last two weeks. – REUTERS / CHARLES PLATIAU
PARIS, Dec. 20 (Reuters) –
The Government of France has failed to break the deadlock in the negotiations to review the pension system on Thursday, which is why union leaders have announced that strikes and demonstrations will continue during the Christmas period.
France has been in an intense wave of protests for two weeks, during which there has been a transport and education strike, in addition to having been seconded by more than half a million people to the streets across the country, to protest against the broad plan of reforms that the President's Government, Emmanuel Macron intends to carry out.
The leader of the General Confederation of Labor (CGT), Philippe Martínez, has announced that the unions have decided to continue with the demonstrations and protests since "the prime minister has not heard what the street says."
For his part, the Prime Minister, Edouard Philippe, stressed that progress has been made and that the Government is determined to move forward with its plans to end the special pension schemes.
In that sense, the Government expects the unions to sign a truce so as not to hinder the millions of displacements that are expected to occur in France in the coming days on the occasion of the Christmas holidays, a tacit pact that from some unions have refused to sign.
The unions oppose Macron's plans to rationalize the French state pension system, which would mean forcing workers to delay the legal retirement age by two years, going from 62 to 64 years.
Social mobilization derives from the pension reform proposed by Macron, which aims to unify the more than 40 schemes currently contemplated by a single framework that, according to the president, would favor equality among workers.
Among the concerns expressed by the unions is that the calculation of pensions is made by virtue of the income earned throughout working life and the suspension of early retirement plans for officials such as public transport workers and medical personnel, although the Government has not yet You have completed your project.