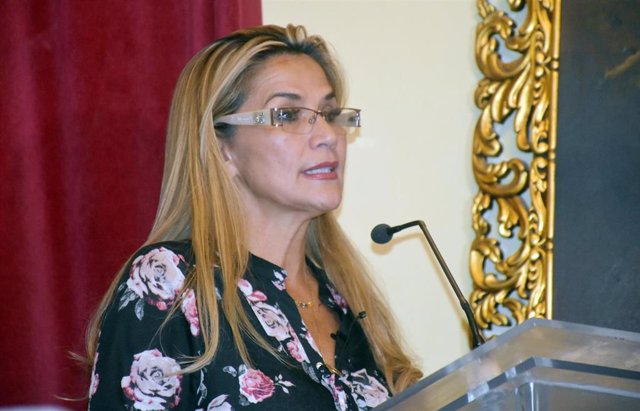 The self-proclaimed president of Bolivia, Jeanine Áñez – ABI
MADRID, Nov. 28 (EUROPE PRESS) –
The relations between Bolivia and Mexico are going through an "awkward" moment due to the former members of the Government of Evo Morales who are isolated at the Mexican Embassy in La Paz, some of whom have arrest warrants against them, as reported Thursday the Government of Jeanine Áñez.
Karen Longaric, the new head of Bolivian diplomacy, explained in a meeting with a foreign press in La Paz that "Bolivia is not going to grant safe conduct to former Evo Morales ministers asylum seekers at the Mexican Embassy."
"We know that this will generate an awkward situation because they are going to stay in that Embassy for a long time, which can be months and even years," Longaric said, in statements collected by the Russian news agency Sputnik.
The Government of Áñez believes that asylum is not justified for former Morales employees who are being investigated by Justice for crimes that include terrorism and sedition, something that Mexico does not share.
The Prosecutor's Office has issued arrest warrants against former Presidency Minister Juan Ramón Quintana; former Minister of Culture Wilma Alanoca; the former governor of Oruro Víctor Hugo Vásquez; the former director of the Agency for Electronic Government and Information and Communication Technologies (Agetic) Nicolás Laguna; and the former IT officer of the Electoral Body Sergio Daniel Martínez.
Longaric already advanced on Wednesday that the Government of Áñez would not give safe conduct to these five people, so his stay at the Mexican Embassy could be extended 'sine die'. This situation was already met by Senator Roger Pinto, accused of tax crimes, who was held for 15 months in the Brazilian diplomatic mission until he managed to flee to that country.
"In days gone by, in a meeting with the Mexican ambassador (María Teresa Mercado), when I handed her the injunctions for several of the asylees … I stressed that there was going to be a very serious problem for them and uncomfortable for us, "Longaric said.
The Foreign Minister has expressed her wish that the bilateral relationship will not deteriorate further. "They (Mexico) will understand in a sooner than long time, they will make their position more flexible," he said.
The Government of Áñez, on the other hand, has given safe passages to other asylees at the Mexican Embassy, ​​including former Minister of Economy Luis Arce.
The crisis broke out after the presidential elections of October 20, in which Morales proclaimed his victory but the opposition denounced a "gigantic fraud." The Organization of American States (OAS) audited the electoral process in which it found "irregularities."
Morales resigned on November 10 and fled to Mexico. Áñez, second vice president of the Senate, proclaimed herself interim president to fill the power vacuum left by the former president and the resignation of other senior officials.
Neither Morales nor his followers recognize Áñez because they believe that his stay at the Burned Palace is the result of a "coup d'etat". She, for her part, has asserted that she will only be in office for the time necessary to call new elections.