The Government of á ñ ez begins a "slow but sure" dialogue with the protesters of El Alto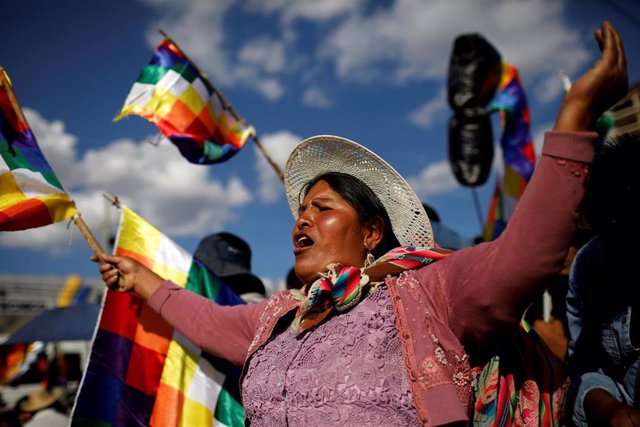 Demonstration in favor of former Bolivian President Evo Morales in Cochabamba – REUTERS / MARCO BELLO
MADRID, Nov. 19 (EUROPE PRESS) –
The Government of the self-proclaimed interim president of Bolivia, Jeanine Áñez, has initiated a "slow but sure" dialogue with the protesters of El Alto, one of the scenarios of the protests that erupted after the presidential elections of October 20 for the alleged fraud.
The Minister of Cultures, Martha Yujra, reported Tuesday that Monday night he met with El Alto protesters to ask them to lift the barricades and recover "peace." "We are fine, slow but sure," he said, according to the Fides news agency.
Yujra has explained that, for now, the answer they have obtained is that they have blocked streets "because groups are coming to want to enter the houses." "They want to loot us, we are taking care," they have transferred to the minister.
El Alto is one of the points where greater mobilization has taken place both in supporters and detractors of former Bolivian President Evo Morales. The blockades have even prevented a hydrocarbon plant from supplying La Paz, causing supply problems in the capital.
On the other hand, in Cochabamba, another hot spot, an "inter-institutional pacification committee" has been installed to restore public order in the department, as reported on Tuesday by the regional president of the Permanent Assembly of Human Rights (APDHB), Edwin Of course.
"We know that this is only to help, because the final decision has to be made in the city of La Paz," said Claros, in statements collected by the official news agency ABI.
The dialogue between the Government of Áñez and the followers of Morales began on Monday under the auspices of the Episcopal Conference of Bolivia (CEB), the European Union and the United Nations.
Meanwhile, it is planned that at 18.00 (Spanish peninsular time) on Tuesday a session of the Legislative Assembly will be held, already with its new authorities, to assess the resignation of Morales and other senior officials and call new presidential elections, first step to Ditch the crisis.
The crisis broke out after the presidential elections, in which Morales proclaimed his victory but the opposition denounced a "gigantic fraud." The Organization of American States (OAS) audited the electoral process in which it found "irregularities."
Morales resigned on November 10 and fled to Mexico. Áñez, second vice president of the Senate, proclaimed herself interim president to fill the power vacuum left by the former president and the resignation of other senior officials.
Neither Morales nor his followers recognize Áñez because they believe that his stay at the Burned Palace is the result of a "coup d'etat". She, for her part, has asserted that she will only be in office for the time necessary to call new elections.