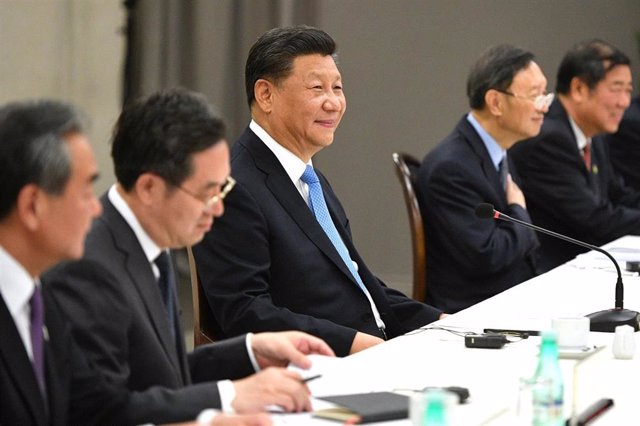 Chinese President Xi Jinping in the center, along with Chinese Foreign Minister Wang Yi – – / Kremlin / dpa
SHANGHÁI, Dec. 4 (Reuters / EP) –
The Government of China has called on its diplomatic staff to show more "combative spirit" in defense of the country's image, at a time when it faces challenges such as protests in Hong Kong, the trade war with the United States and other crises that It could deteriorate your international reputation.
Chinese Foreign Minister Wang Yi met at the end of November in a commemorative event with diplomats at the headquarters of the government department and called on them to show a greater "combative spirit" in the face of international challenges, as explained by three sources with knowledge of the meeting.
Although Wang did not give concrete guidelines in that act, his message came after several Chinese diplomats created accounts on the Twitter social network from which people critical of the Chinese regime have been attacked. This week, the Chinese Foreign Ministry has launched its own Twitter account.
The meeting with the Chinese Foreign Minister brought together more than 1,000 senior and former Chinese officials, who sang patriotic songs on the occasion of the seventieth anniversary of the creation of this government department.
"This is the first time they have told us to show more combative spirit," said one of those responsible for attending the meeting. Wang's statements reflect the new turn to foreign and defense policy promoted by Chinese President Xi Jinping, who has abandoned the line previously marked by Deng Xiaoping, who argued that China should hide its true potential.
This Monday, China's Foreign Ministry has debuted on the Twitter social network with a message on the @MFA_China account in which it responded to the US decision to pass a law on protests in Hong Kong. In a day and a half, the account has added more than 10,000 followers.
In recent months, several Chinese ambassadors and senior diplomatic positions have created their own accounts on the social network. Twitter has indicated that it considers the accounts of senior government officials "an important element" in the social network.
The new accounts highlight the efforts of the Chinese Communist Party (CCP) to try to influence the global narrative, as explained by Anne-Marie Brady, a specialist in China at the University of Canterbury in New Zealand.