The Government of Chile sends a bill to Congress to raise the minimum wage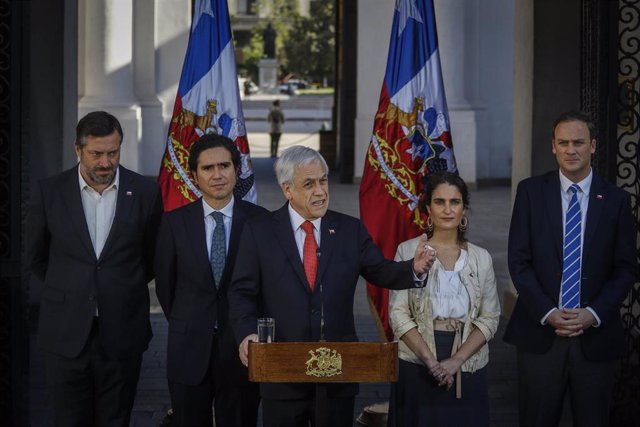 The president of Chile, Sebastián Piñera, accompanied by some of his ministers – AGENCIA UNO / SEBASTIAN BELTRAN GAETE
MADRID, Nov. 6 (EUROPE PRESS) –
The Chilean Government has sent a bill to Congress on Wednesday to raise the minimum wage to 350,000 pesos (425 euros), from the current 301,000 (365), in the context of the wave of protests over social inequality.
The president, Sebastián Piñera, explained that the increase will be for those who currently have an income of between 301,000 and 350,000 pesos. "They will receive a contribution, an aid, a subsidy from the State that will allow their income to reach a minimum of 350,000 pesos," he said.
In Executive calculates that this will require 306 million dollars of the public accounts that "are going to arrive directly to the pocket of 540,000 workers".
The Minister of Social Development, Sebastian Sichel has indicated that the cost will be borne by the State because raising the minimum wage on behalf of employers would prevent them from continuing to hire. "What we want is to take care of the job."
Piñera has formed the bill at an event held in La Moneda accompanied by Sichel and Labor Ministers, María Saldívar, and Hacienda, Ignacio Briones. Now, you must receive approval from Congress to be approved.
The Government has devised a "social agenda" in response to the protests that erupted on October 17 over the fourth rise in the price of the subway in a few months but quickly escalated to denounce inequality. Now, protesters and opposition also demand a new Constitution.
At least 19 people have died and over a thousand have been arrested for clashes between protesters and security forces. The National Institute of Human Rights (NHRI) has denounced torture and other abuses by police and military that Piñera has promised to investigate.