The Government of Chile expands the state of emergency for protests to Concepción and Valparaíso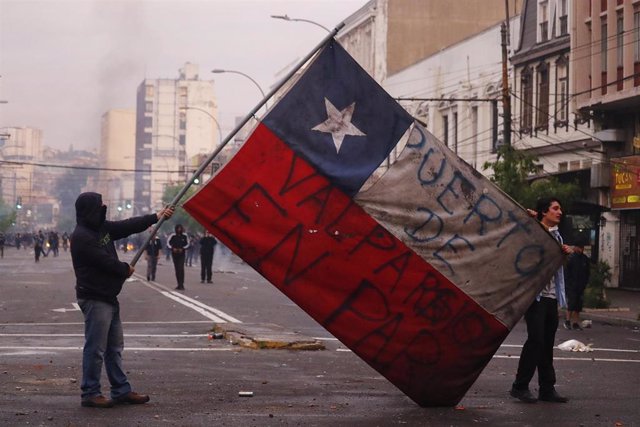 Protests in Valparaíso – AGENCIAUNO / LEONARDO RUBILAR
SANTIAGO, Oct. 20 (Agency One / EP) –
The president of Chile, Sebastián Piñera, has decreed the state of constitutional emergency emergency in the provinces of Concepción – the Biobío region – and throughout the Valparaíso region in response to protests unleashed against the rise in metro prices in Santiago, where there is already curfew and state of exception, and that have been extended to other cities. So far there have been three deaths due to a fire during the looting.
The measure of state of exception in Concepción and Valparaíso will be in force for 15 days and may be extended for another 15 and is the response to serious disturbances, looting and fires recorded during the day on Saturday in both areas.
The Chief of the Naval Zone of Valparaíso, Rear Admiral Juan Andrés de la Maza, decreed a curfew starting at midnight, which will last until 7:00 on Sunday.
The State of Emergency in Concepción and Valparaíso joins the decree in the provinces of Santiago and Chacabuco, next to the municipalities of Puente Alto and San Bernardo, in the Metropolitan Region.
Precisely in the capital governs the curfew from 10 pm to 7 am according to the announcement of the head of the National Defense, the general of division Javier Iturriaga del Campo.
This Sunday it has also been reported that at least 20,084 homes are without power supply in the Santiago Metropolitan Region of Chile. Of those affected by the cuts, 13,916 are clients of Enel and 6,161 are of CGE. Both companies began to inspect the lines to identify causes of the failures and repair them, reports the Intendance of the Metropolitan Region.