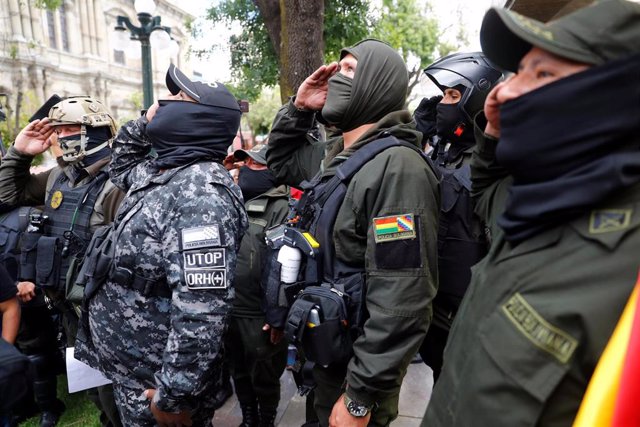 Policemen who have joined the protests against Evo Morales in La Paz – REUTERS / KAI PFAFFENBACH
MADRID, Dec. 6 (EUROPE PRESS) –
Bolivian Defense Minister Álvaro Coimbra announced on Thursday that the Government will present next week a report that demonstrates that the Armed Forces did not use their regulatory weapons during the riots resulting from the post-election protests in El Alto and Sacaba.
"We are going to present a report on Monday, a government report, with Human Rights experts … with the reports of the Public Prosecutor's Office, the Forensic Investigations Institute and all the institutions where it is shown that none of the dead have been with projectiles using the Armed Forces or the Bolivian Police, "Coimbra said in an interview collected by the Bolivian news agency ABI.
In this context, he has advanced that, according to the information they handle, there were "subversive groups operated by Bolivians and foreign citizens, some of them of Peruvian and Venezuelan nationality", involved in the events in Senkata, which resulted in at least 10 dead and those Coimbra has alluded to.
The political crisis in Bolivia broke out after the presidential elections of October 20, in which the now former president Evo Morales proclaimed his victory but the opposition denounced a "gigantic fraud."
The Organization of American States (OAS) has concluded in its final report that in the elections there was "malicious manipulation" and "partiality", as well as "serious irregularities", such as "lack of protection of the minutes" and the loss of "sensitive material".
Morales resigned on November 10 and fled to Mexico. Jeanine Áñez, second vice president of the Senate, proclaimed herself interim president to fill the power vacuum left by the former president and the resignation of other senior officials.
Bolivia is now preparing to celebrate new ones in which neither Morales nor his vice president, Álvaro García Linera, will be able to participate, according to the agreement to which his party, the Movement To Socialism (MAS), and the Government of Áñez have arrived in Congress .