The Government of Bolivia will indemnify the families of those killed in the protests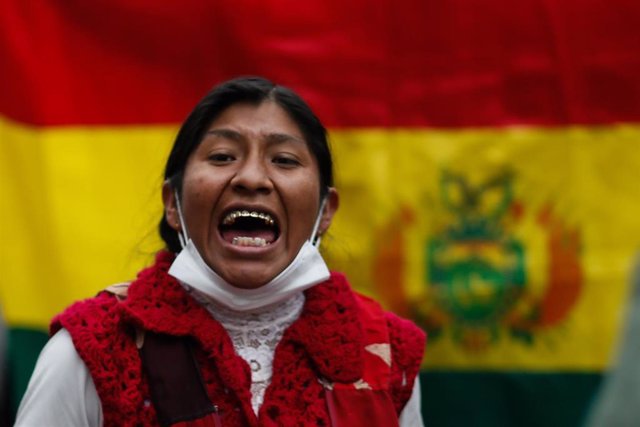 Protests in Bolivia. – Gaston Brito / dpa
MADRID, Dec. 6 (EUROPE PRESS) –
The interim government of Bolivia has approved on Thursday a decree to compensate the families of those killed in the riots in the post-election protests with 50,000 Bolivians (more than 6,500 euros).
"I have just promulgated DS 4,100 authorizing the granting of humanitarian assistance and compensation to the families of those killed and injured in the violence that arose in the country after the fraud of October 20," said the interim president of Bolivia , Jeanine Áñez, through her Twitter account.
The rule also provides "provide medical, food, social and psychological assistance to injured people," said the country's Minister of Justice, Álvaro Coimbra, has collected the newspaper 'La Razón'.
Also, Coimbra has specified that the Government has registered 29 dead in the protests. However, the Office of the Ombudsman estimates the number of fatalities at 35.
The political crisis in Bolivia broke out after the presidential elections of October 20, in which the now former president Evo Morales proclaimed his victory but the opposition denounced a "gigantic fraud."
The Organization of American States (OAS) has concluded in its final report that in the elections there was "malicious manipulation" and "partiality", as well as "serious irregularities", such as "lack of protection of the minutes" and the loss of "sensitive material".
Morales resigned on November 10 and fled to Mexico. Jeanine Áñez, second vice president of the Senate, proclaimed herself interim president to fill the power vacuum left by the former president and the resignation of other senior officials.
Bolivia is now preparing to celebrate new ones in which neither Morales nor his vice president, Álvaro García Linera, will be able to participate, according to the agreement to which his party, the Movement To Socialism (MAS), and the Government of Áñez have arrived in Congress .