The Government of Bolivia requests a "precautionary measure" to the Constitutional Court to stop the guarantee law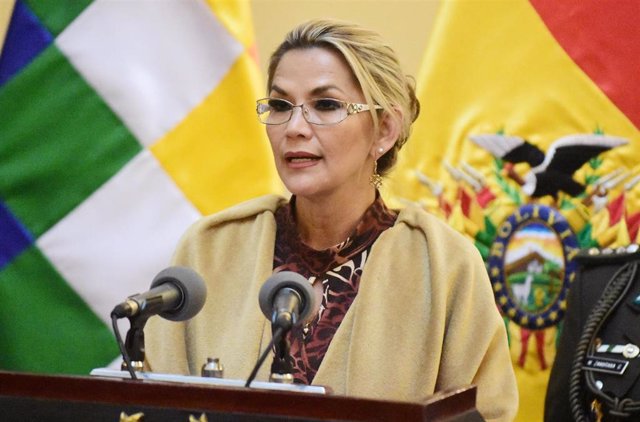 25 November 2019, Bolivia, La Paz: Bolivian interim President Jeanine Anez delivers a statement before accrediting Salvador Romero as the new member of the Bolivian Supreme Electoral Tribunal. Photo: Diego Valero / ABI / dpa – Diego Valero / ABI / dpa – Archive
The president of the Senate will ask Áñez for a meeting to discuss its content
MADRID, Jan. 18 (EUROPE PRESS) –
The interim Government of Bolivia has requested this Friday to the Plurinational Constitutional Court (TCP) a "precautionary measure" that paralyzes the legislative process of the law that guarantees the "full" enforcement of rights for social, civic and political leaders, also for They are abroad.
The law, called 'Human Rights Compliance Law', has already been approved by the Senate and the Chamber of Deputies of Bolivia, but the interim government understands that the rule implies "impunity" for former Executive members and leaders "linked to crimes. " Therefore, it has already announced that it will "neutralize it legally."
Thus, the Deputy Minister of Government Coordination and Management, Israel Alanoca, has requested on Friday a "precautionary measure" to stop the legislative procedure until the issuance of a constitutional declaration on the rule.
"The president (Jeanine Áñez) is not going to promulgate it, we have sent this precautionary measure to the TCP until it can issue a ruling," explained Alanoca, according to the local newspaper 'La Razón'.
On the other hand, the president of the Bolivian Senate, Eva Copa, announced Friday that she will ask Áñez for a meeting to discuss the content of the law.
"On Monday we will present a letter to the transition president so that we can sit down and discuss the entire content of the law," said Copa, while stressing that "the important thing" is to maintain "peace and pacification in the country "in view of the general elections scheduled for May 3.
The dialogue table formed by the Government, social organizations and legislators that was established after the mobilizations that occurred in the country following the elections of October 20, which caused a political crisis in Bolivia, agreed the bill to provide guarantees of security and political rights, in addition to ensuring that eventual prosecution of dignitaries was done by constitutional and legal means.
Specifically, article seven of the law establishes that "the State, through its competent bodies and institutions, shall guarantee the full exercise of the constitutional rights, freedoms and guarantees for Bolivians and Bolivians, foreigners and foreigners residing in Bolivia, including social leaders, union leaders, civic and political leaders, as well as people mobilized from the countryside and the city throughout the national territory. "
Former President Evo Morales resigned on November 10, after the Organization of American States (OAS) detected "irregularities" in the October 20 presidential elections. He denounces that he was the victim of a coup d'etat, so he is a refugee in Argentina, although he previously recalled in Mexico and briefly in Cuba.