The Government of Bolivia estimates that the new elections will take place in mid-March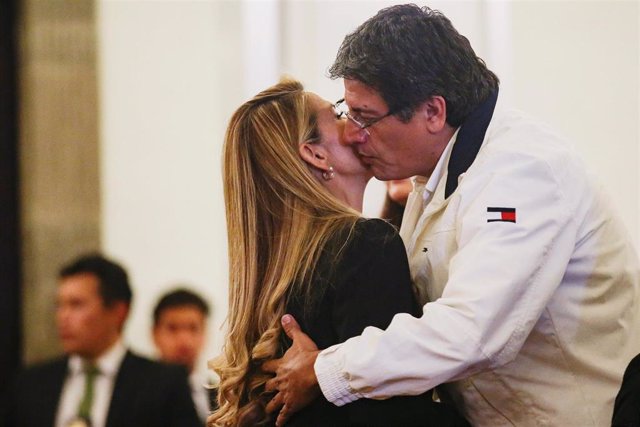 The presidency minister of the current Government of Bolivia, Jerjes Justiniano, embraces the country's self-proclaimed interim president, Jeanine Áñez. – REUTERS / LUISA GONZALEZ
MADRID, Nov. 30 (EUROPE PRESS) –
The Minister of the Presidency of Bolivia, Xerxes Justiniano, has estimated Friday that the new general elections in the country will be held in mid-March, after a deadline for the election of the people who will make up the Supreme Electoral Tribunal has been established ( TSE).
"We are going to count more or less from December 23, from there we have four months, until April 23, to conclude the process," Justiniano said, according to the local newspaper 'El Debe'.
"Within those 120 days, the first round, the second, if any, the final calculation and practically the issuance of the credentials to the elected deputies and senators must be carried out, which means that, approximately, more or less, in my calculation, in mid-March we will have the first round elections, "he added.
Currently, there is a period of 20 days to elect the new authorities of the TSE and departmental instances. Two days after taking possession of these authorities, the call for new elections must be launched. The process must take place in 120 days.
"The country wants to issue its opinion once and for all, to decide who will be the next president of the Bolivians," Justiniano said.
The political crisis in Bolivia broke out after the presidential elections of October 20, in which the now former president Evo Morales proclaimed his victory but the opposition denounced a "gigantic fraud." The Organization of American States (OAS) audited the electoral process in which it found "irregularities."
Morales resigned on November 10 and fled to Mexico. Jeanine Áñez, second vice president of the Senate, proclaimed herself interim president to fill the power vacuum left by the former president and the resignation of other senior officials.
Neither Morales nor his followers recognize Áñez because they believe that his stay at the Burned Palace is the result of a "coup d'etat".
Áñez enacted on Sunday the Law of Exceptional and Transitional Regime for the conduct of the elections, a rule that provides that neither Morales nor his former vice president, García Linera, may be candidates.