The Government of Áñez will denounce Morales in international instances for crimes against humanity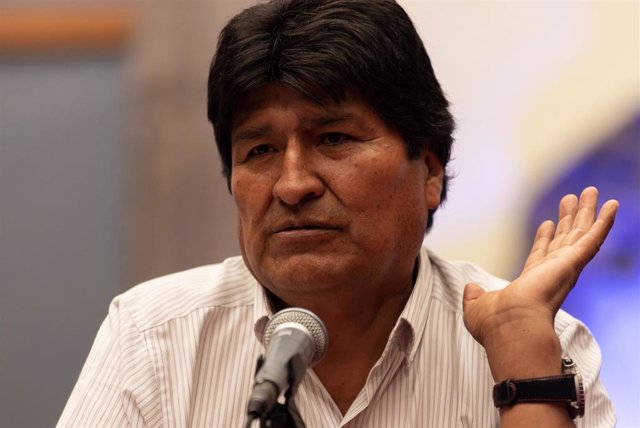 The former president of Bolivia Evo Morales – Gerardo Luna / NOTIMEX / dpa
MADRID, Nov. 20 (EUROPE PRESS) –
The Government of the self-proclaimed interim president of Bolivia, Jeanine Áñez, has announced on Wednesday that she will denounce the former president Evo Morales before international instances for crimes against humanity, after revealing an audio in which he would encourage protests from Mexico, where he is exiled.
The Minister of Government, Arturo Murillo, has appeared to report that the Government has had access to a telephone conversation between Morales and a leader of the Tropic of Cochabamba, Faustino Yucra Yarwi, which would have occurred three days ago.
"Combat, combat, combat, brother. Some do not understand us (what is a) dictatorship. Now people will see how the dictatorship is lived with a coup d'etat," Morales would say, according to the Bolivian press.
According to Murillo, the indigenous leader "orders that food not enter the cities", which is a crime against humanity, so he has announced that in the "next hours" they will file an "international lawsuit" against Morales.
Murillo has lamented the drift that Morales would have adopted. "Bolivians believed in him – 70 percent of Bolivians voted for him – and today he orders to kill his people from hunger," he said.
Morales resigned on November 10 after the Organization of American States (OAS) confirmed "irregularities" in the presidential elections of October 20, whose official results granted him a fourth term.
Days later he arrived in Mexico, where he is in the capacity of political asylum. The former tenant of the Burned Palace denounces that he has been the victim of a "coup d'etat" and, consequently, does not recognize his interim successor, Jeanine Áñez.
In this month of protests, more than 20 people have died and more than 700 have been injured. The great conflict in El Alto has prevented fueling La Paz, which has generated a shortage of basic products, including food.